When planning my 5th grader's Class Halloween Party, I struggled to find an activity that would be engaging and fun for the older kids, but still be appropriate for a school Halloween Party! I settled on a Food Craft (The Donut Bar was such a hit!) and some printable games to keep them busy while they ate their treat. While I found a few printable Halloween games that were fun, I am excited to say I can add my own Printable Halloween Party Game to the list with this version of the classic Hangman game called Skeleton Hangman!
This post may contain affiliate links. You can read all about it on our Disclosure Page.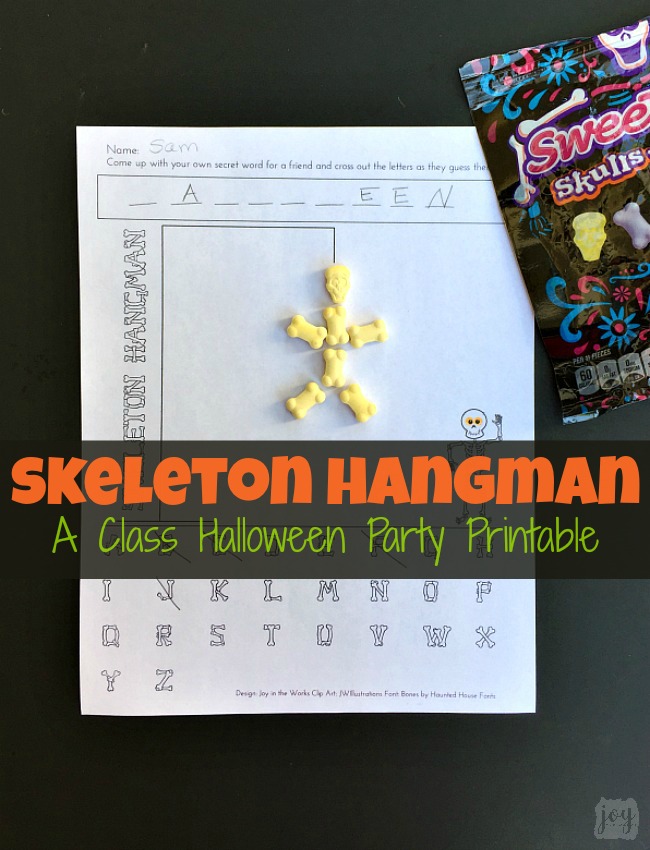 Skeleton Hangman: A Printable Halloween Party Game
Supplies Needed:
Printable Game (Download instructions are at the end of this post)
Writing Utensil (pencil, pen, marker etc)
Sweet Tart Skulls and Bones Candy (Optional)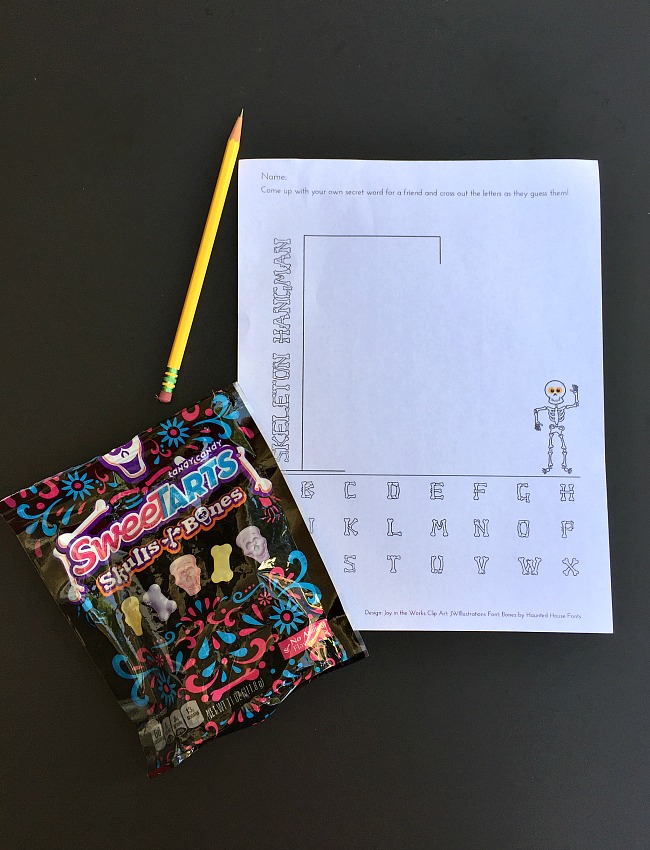 If you have been a follower of Joy in the Works for any length of time now, you know that we love to do crafts and games with candy! Therefore, when making this printable, I had to give a candy option as well as the regular paper and pencil version too! And because I believe that kids of varying ages should be able to play, there are some simple modifications you can make for younger children as well.
If you have ever played the classic game Hangman, you know just how to play Skeleton Hangman! The only difference, obviously, is that you are creating a skeleton instead of a regular man when the letters are guessed incorrectly. But just in case only old people like me know how to play Hangman, let's review the rules!
Game play starts with one player deciding on a secret word. This printable Halloween party game leaves lots of room at the top for a long word or phrase. Kids need to add one line per letter of their secret word or words.
Next, the other player starts guessing letters that might be in the secret word. For each letter guessed, the child will cross off the corresponding letter from the alphabet bones at the bottom of the printable. It is a great way to keep track of what letters have been guessed already!
Each correct guess will earn a letter (or letters) revealed in the secret word. Each incorrect guess will lead to the addition of a bone added to the skeleton!
Now comes the fun part- building the skeleton! If you are playing the candy version of Skeleton Hangman, start with the skull and add the bones in whatever way you want to create a skeleton! You can build arms with 1, 2 or 3 bones and you can add feet or hand bones too! It's completely up to the players (but they should agree upon the rules ahead of time).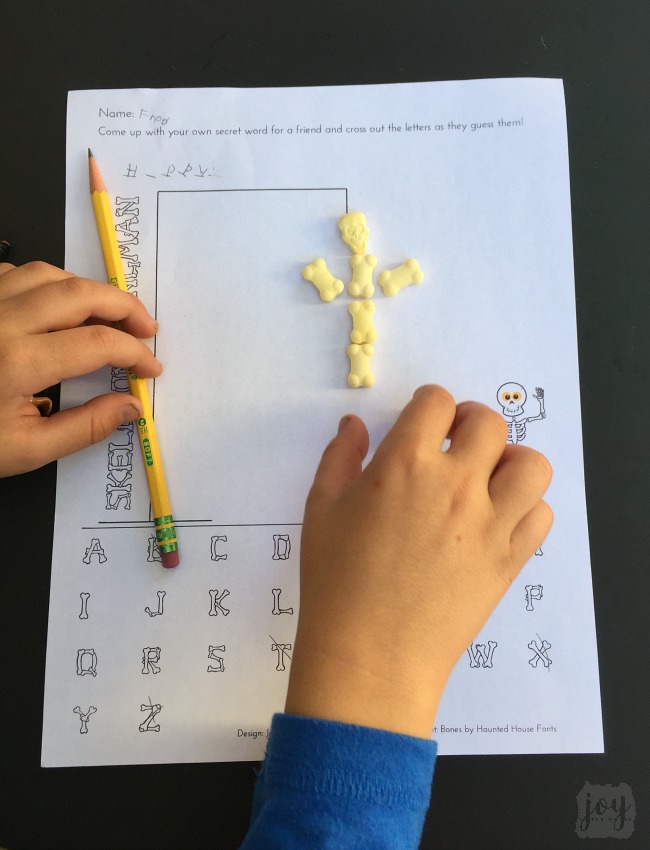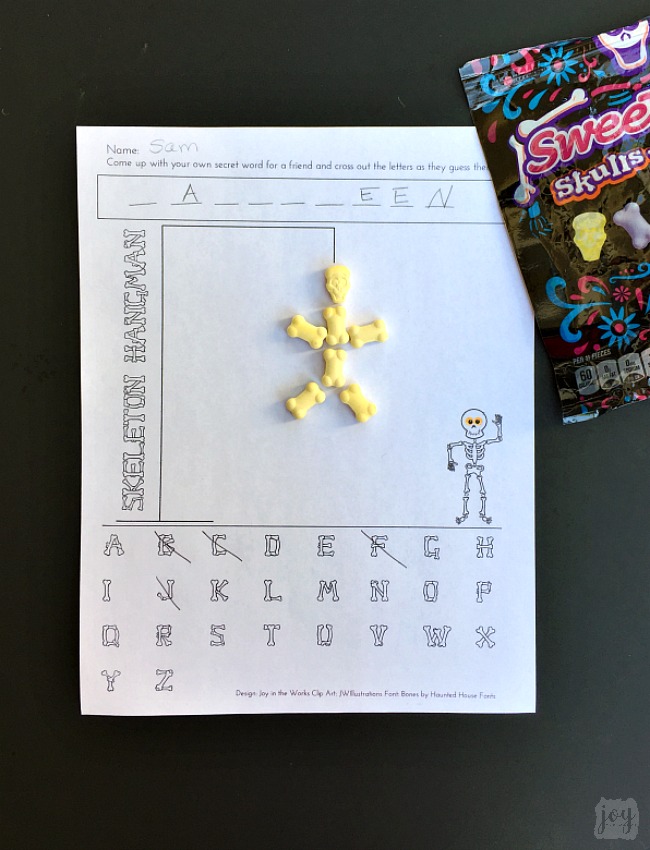 If you aren't interested in the using the candy bones for your Skeleton Hangman game, the children can also just draw a skeleton!
My son tried to copy the Skeleton Clip Art on the Halloween printable party game which wasn't the goal and I think didn't worked well for his age group (He's 8). It might be an option for an older class (especially one that is studying the anatomy of real skeletons!) but for the younger kids, I suggest just drawing simple lines and shapes. A simple leg line and a simple oval skull will work just fine!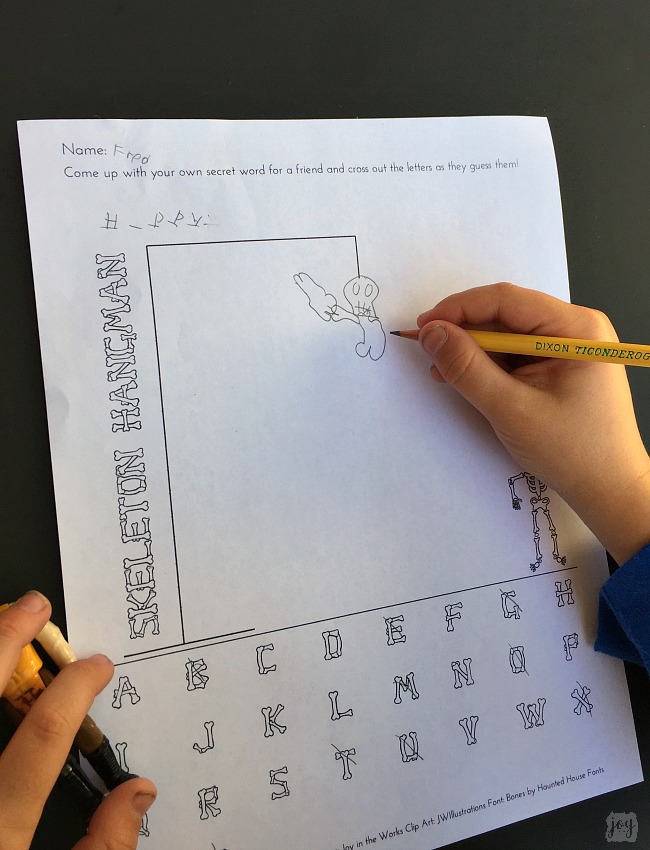 The game is over when the secret word is guessed or when the skeleton is finished. A good way to celebrate a game well played would probably be the 2 players sharing their skeleton candy, if you were playing the sweet version! =)
Each Halloween Printable Party Game was made to be one time use game, but if you knew that the kids would want to play over and over, it might be a good idea to print out this game on cardstock and laminate a few. If you used some white board pens, the kids should be able to use it over and over again, just by wiping it clean!
You can download this game by signing up for emails in the grey box below. Once you enter your email information, you will got an email confirmation at the email address you entered. Once you click to confirm that you did in fact mean to sign-up, another email will be sent to you from me with the printable attached.
If you don't receive the emails for some reason, be sure to check your spam folder! It usually is hiding in there for those people who don't get it right away. If you have done all of those things with no luck, you may contact me at info@joyintheworks.com and I will make sure you get it. Thanks and enjoy your freebie!

There you have it! A simple Printable Halloween Party Game perfect for a Class Halloween Party or even a fun afternoon at home with the kids. Looking for more fun Halloween activities with your kids? Check out this Halloween Decoration Scavenger Hunt that's perfect for an afternoon walk in your own neighborhood!