As you know, Marshmallow Pops are one of my most favorite holiday treats! Not only are they tasty, but they are so easy to make and match to the latest holiday with themed sprinkles and toppings! Plus, as I always say, if you put a treat on a stick and wrap it in cellophane, people are always so impressed!! However, of all the Marshmallow Pops I have made, these Marshmallow Monsters Halloween Treats are by far my favorite!
I think I love these so much because they turned into a Halloween Invitation to Create Monsters! The kids got involved with these Marshmallow Monsters by creating faces, adding teeth, fangs and hair! We also changed things up a bit by using by round and square marshmallows which really helped when it came to creating Frankenstein's Monster!
This post contains affiliate links which provide me with a small percentage of any purchases made at no increased cost to you. You can read more about my affiliate policy here on my disclosure page.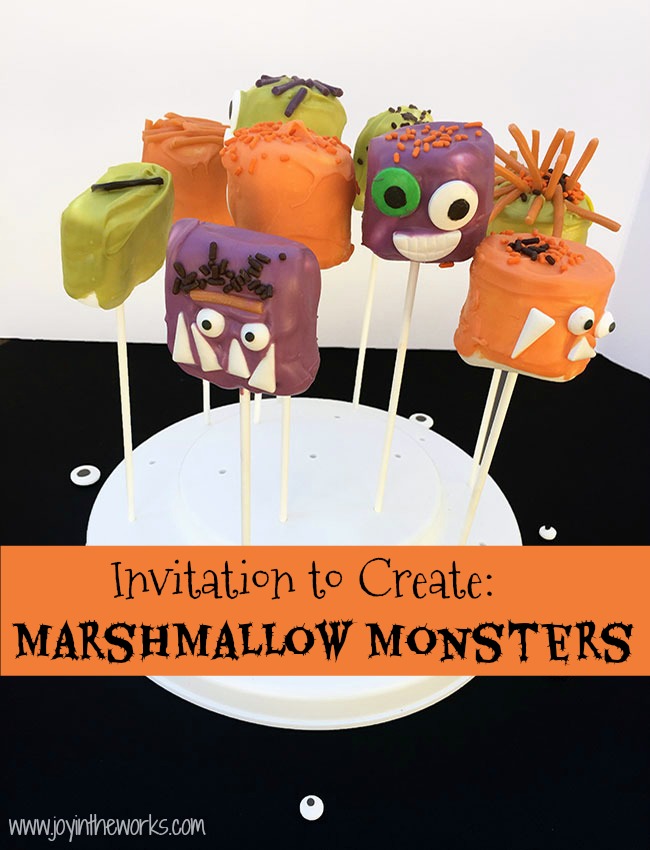 Marshmallow Monsters Halloween Treats
Supplies Needed:
Jumbo Marshmallows
Square Smoremallows
Colored Candy Coating (orange, purple and green)
Candy Eyeballs
Wilton Tackle Box Sprinkles (contains fangs, various eyes, drops of blood etc)
Thin Licorice (Black, Rainbow)
Sprinkles in various colors
Lollipop Sticks
Cake Pop Stand (optional)
Cellophane Bags (optional)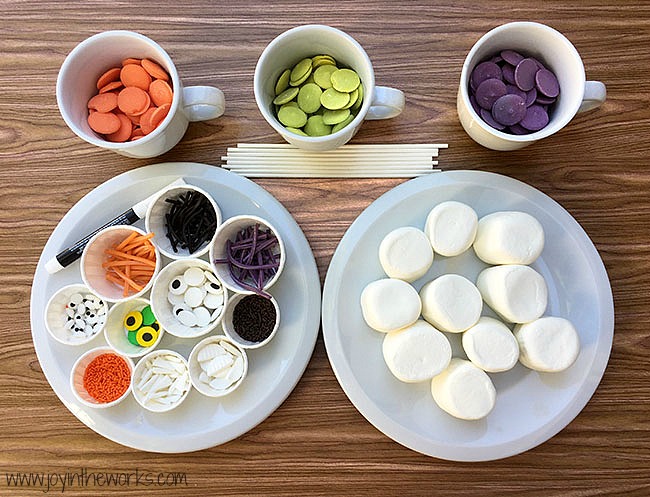 The first thing you want to do before you call the kids to join you for this project is to get all of your supplies ready! I put each item in a separate container and even cut the licorice ahead of time (although the kids could definitely help with that!) I used various eyeballs, teeth, fangs, sprinkles and licorice for the kids to create with. I even tried adding a candy coating pen for Frankenstein's scar, but didn't find it to be all that successful.
Also, just a note about the supply photo above: In the picture you will just see the round jumbo marshmallows, but as I said, I also used the flat square marshmallows which added an extra fun touch for the green Frankenstein monster!
Once all of your supplies are ready,  it is time to melt your candy coating! Melt the candy in the microwave in 30 second intervals, stiring well in-between. We melted and decorated the marshmallows one color at a time. This ensured the other candy colors didn't cool and harden while we were working on our other creations!
After the candy coating is melted (you could also use chocolate or white chocolate!), push a marshmallow onto a lollipop stick, about 1/2 way through the marshmallow. Hold the stick and dip the marshmallow into the melted candy. Swirl the marshmallow around a bit to completely coat it with candy.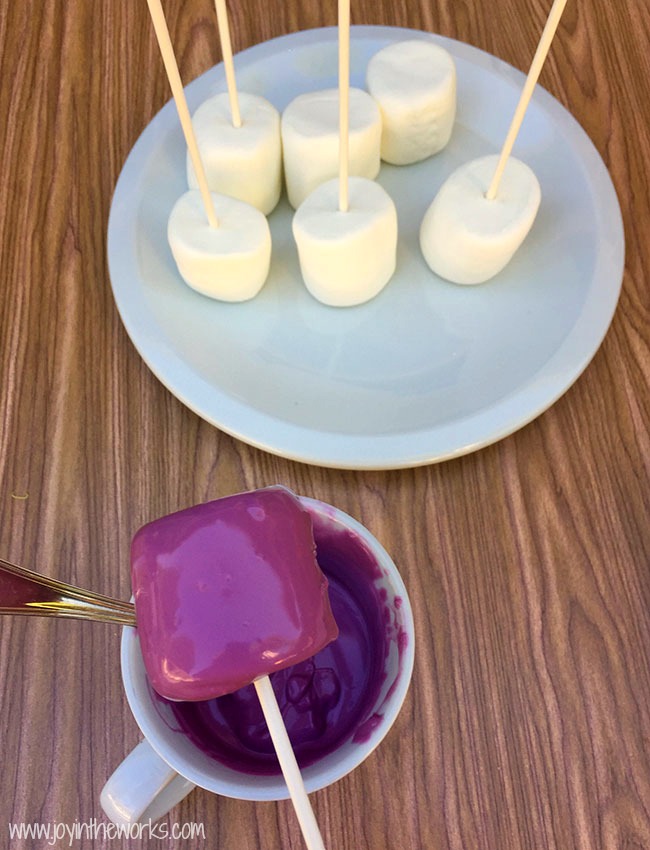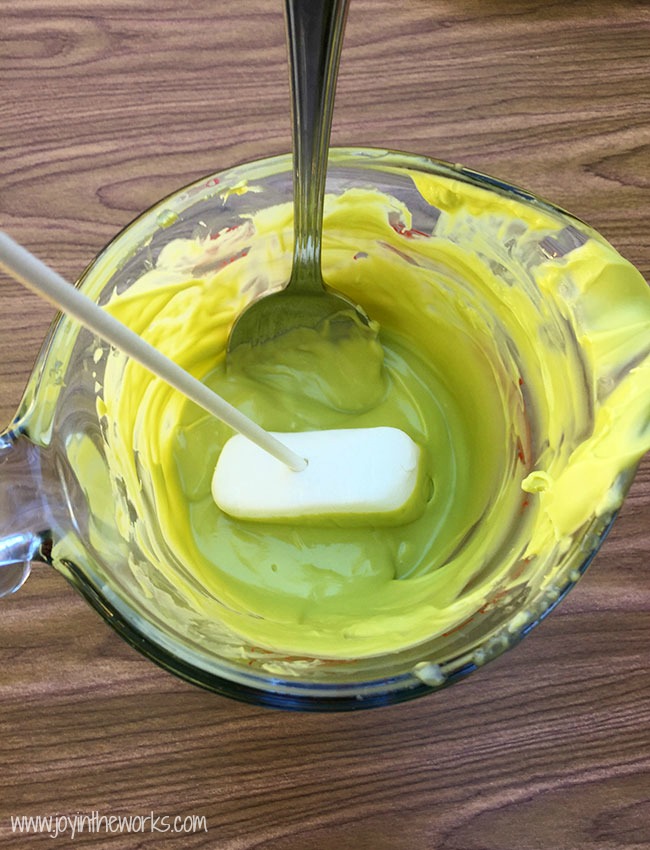 While the coating is still wet, it is time to invite your kids to create! My older kids could hold their own stick and add all the monster parts they wanted on their own. My littler guy needed me to hold the stick (and watch for drips) while he added his favorite eyeballs, teeth and fangs. I also showed them all how to drop a few sprinkles on for hair or how licorice could be a simple mouth. After that, I just let them have fun and create their own Marshmallow Monsters Halloween Treats!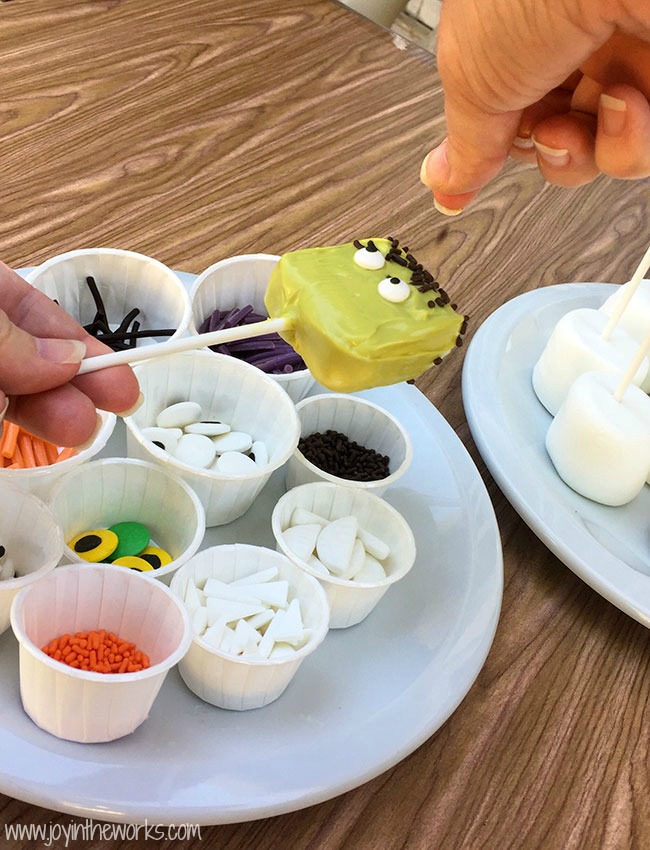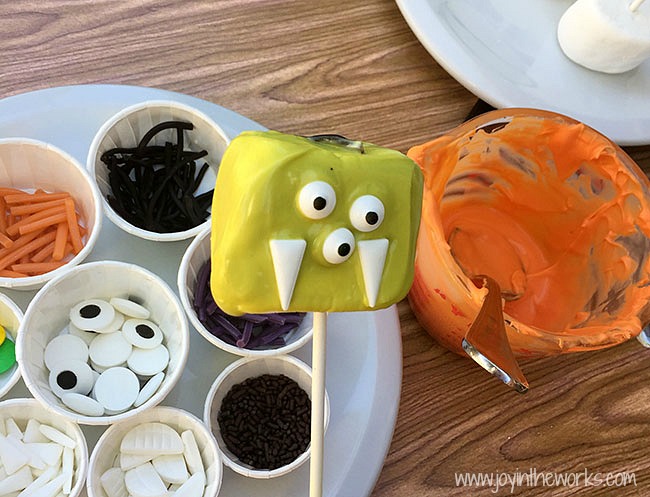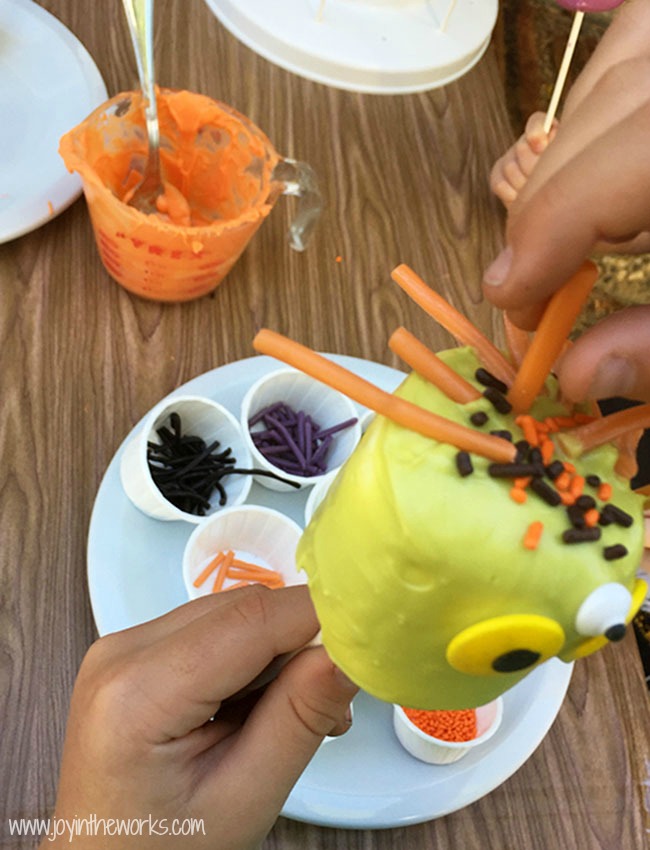 My favorite Marshmallow Monster was the one my 8 year old made with the wild and crazy licorice and sprinkle hair (plus 3 eyes, of course!) All 3 of my kids (from 4 to 14) enjoyed making these Halloween Treats and loaded them up with lots of monster parts!
Once all the Marshmallow Monsters were decorated, the candy coating needed to harden to hold everything in place. We used a cake pop stand to hold the lollipop sticks as our creations dried, but a piece of foam or a shoe box with holes works just as well to hold them upright while they dry.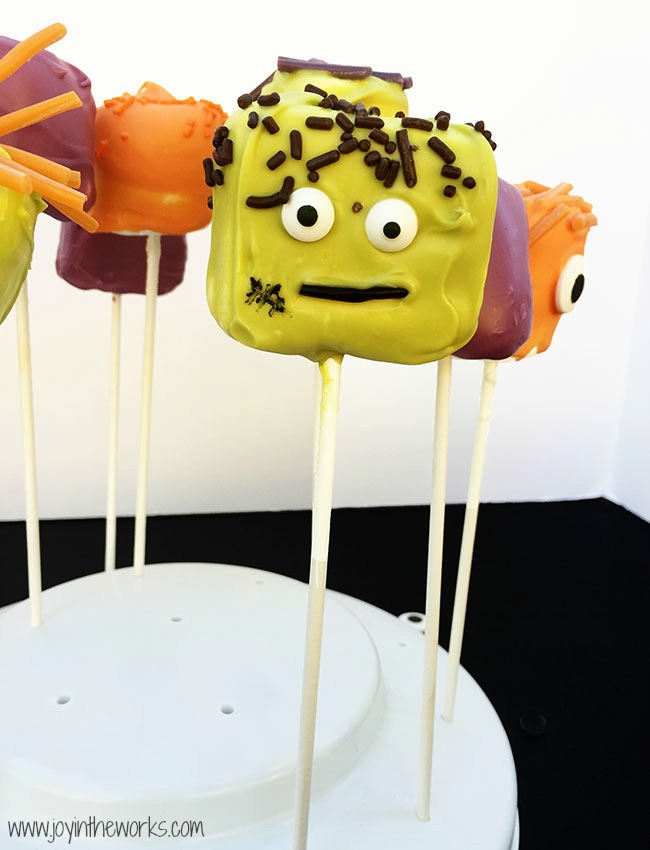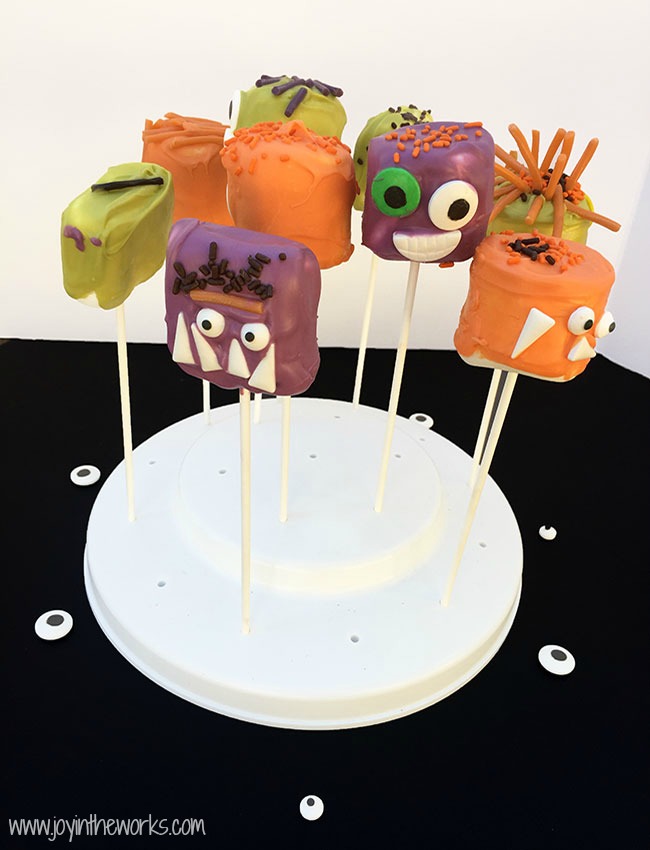 We loved our creations so much that we decided we needed to share them with our favorite people! We added simple cellophane bags, sealed them up and delivered them to our neighbors. We got such compliments on our tasty Marshmallow Monsters!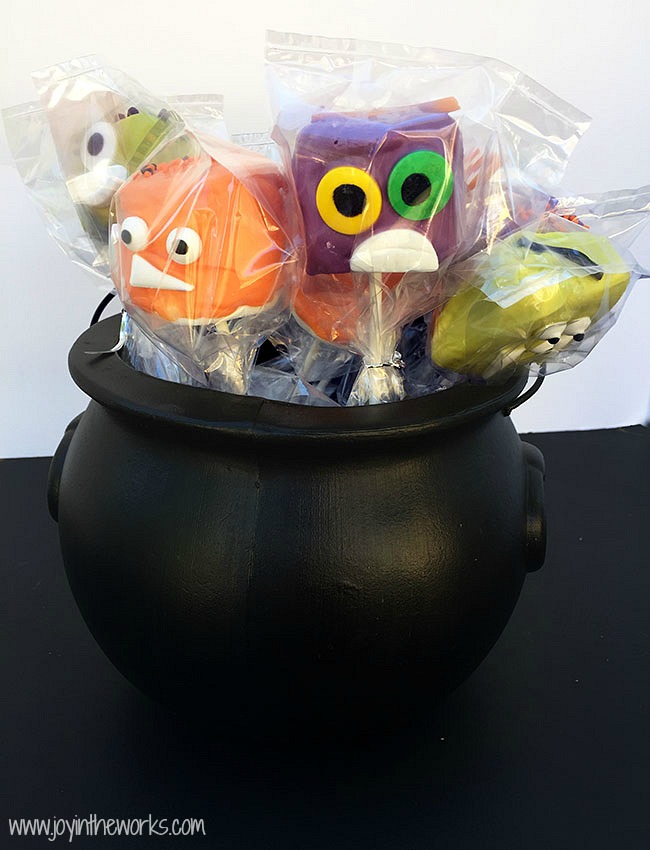 While we spent the afternoon at home with our Halloween Invitation to Create, I also think this kid friendly food craft could work for a Halloween party as well (at school or someone's house!) if you had enough adult support. Last, if you like to "Boo" your neighbors or friends, these Marshmallow Monsters would make a great addition to a Boo Kit! Regardless of what you do with your creations, it's the process and activity that I know the kids will love!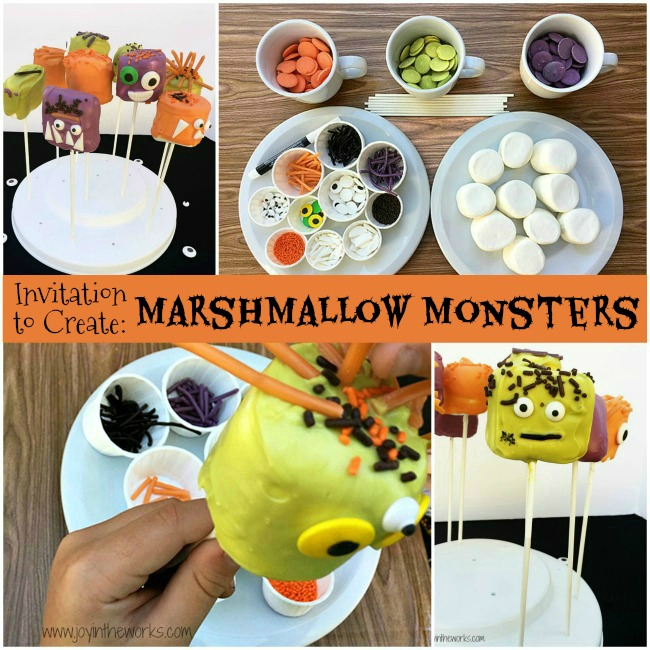 Looking for more dipped Halloween treats? Check out these White Chocolate Dipped Skeleton Bone Cookies too!