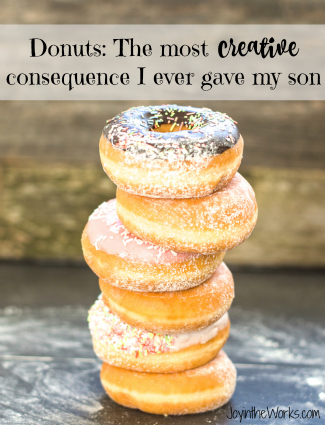 It was another one of those days. Yes, another. I overslept again. It always seems to be on Wednesdays. Or as we call it in our house "Band Day". Band Day is most dreaded by child #1 and by me. For #1,  it means going to school early to practice an instrument he can't stand, and for me it means dragging my self out of bed (have I mentioned I am NOT a morning person?) and getting 3 human beings in the car. One of which needs to have said instrument with a packed lunch and the others need to be dressed warmly enough to go outside and climb in the car at "O Dark 30″ So you can see why Wednesdays aren't my favorite days and I often "accidentally" oversleep.
The Most Creative Consequence I Ever Gave My Son
But lately, with Child #1's frequent illnesses and missing so much school, we are really trying to get him to band so he will be caught up in time for the Spring concert. So, today, in an effort for my husband not to kill me to make sure my son gets the educational experience he needs, I set 3 alarms on my phone. Yes, 3. 6:35, 6:45 and 7 o'clock. In my defense, I do actually remember turning it off at 6:35, thinking I had other chances to get up. But honestly, I have no recollection of the others. Now I know I haven't slept in 8 months, but I really think my child#1 was behind the couch (where I had fallen asleep nursing the baby at the 5:30 am wake up) turning off my phone alarm. But I digress…
When I finally woke up at 7:30, understanding that band started in 15 minutes, I was determined not to miss it AGAIN. I went in woke up my son (whom I discovered later had already woken up, seen the time and just laid back down…grrr) and told him he was going to band, even if he was late. He. Was. Going.
In world record time, I woke up brother #2 and got all 3 boys in the car. We pulled into the school parking lot at 7:50 am, only 5 minutes late. As I was patting myself on the back, I noticed the parking lot looked awfully empty for "band day". I didn't see any other parents pushing their children out the car with breakfast in hand while trying to balance a large instrument case. So, I waited while my son walked up to the door of the gym and tried it. It was locked and empty. He got back into the car and informed me that no one was there. We were confused, we got out and looked around, saw no sign of his band teacher, so we climbed back in the car.
As we were driving away, I was musing aloud about what might have happened. I thought maybe his band teacher got sick. Maybe she sent out an email that very morning about the cancellation and we were running so late that I hadn't done my regular email check. At that thought, my son pipes up, from the back of the car, "Oh, she doesn't send emails. She can't. Her school computer is broken. She can only send notes……oh. Like the one in my desk in the classroom that says there is no band today…"
SCREECH. Wait, what?! I stop the car and ask him to recount the story. He says he just remembered seeing a note in his desk (put there during his recent absence), that said there was no band on this particular Wednesday. He read it and left it in his desk. Now this is not surprising, given my organizationally challenged son's history, but I was….I want to say "fuming", but I wasn't. I was more incredulous. And amused. Mostly due to the irony of oversleeping and hauling us all out to the car in a frenzy in our pajamas to get us to school for a band practice that had been canceled. (Have I mentioned my son normally takes the bus everyday, so I don't have to ever get out of bed to get him to school, except on these band days? Yes, I am incredibly lucky, I know)
So, in an effort to teach my son a lesson about how his irresponsibility affected 3 other people (one of those being an extremely over tired, non-morning loving mom of a new baby, so that counts as like 10 people), I came up with my Best. Consequence. Ever. Because we all had to get up and get in the car for his error, he needed to make it up to us. By buying us donuts. With his own money. Which he has very little of. And of which, I happen to love (donuts, not money. Well, I suppose I do feel a little affection for money…)
Thankfully, he apologized, took ownership and got a kick out of buying us all donuts (and the 2 neighbor kids I picked up along the way). Trust me, he won't make that mistake again. Of course, unless, he is in the mood for donuts.