We are a board game family. In fact, we have an entire 2 sliding door closet filled with them, stacked high up to the ceiling. Board games are a great way to spend time together as a family and make fantastic gifts for kids and adults, so what's not to love?!  But with all the new board games on the shelves, it's hard to know which ones will be a hit. Luckily, I was able to talk to my local game/toy store owner about the top games for Christmas and can share those recommendations with you!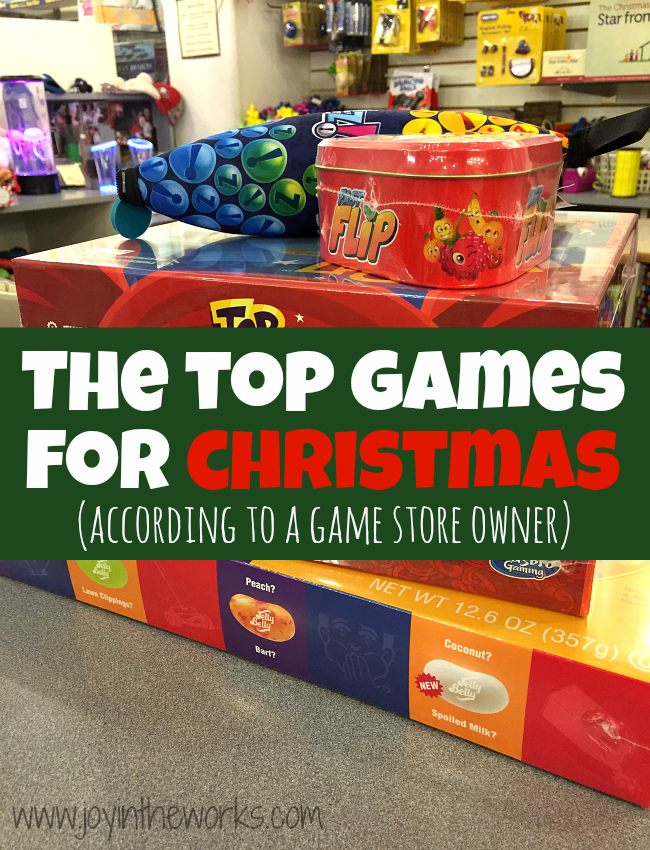 This is the 5th post in a series of children's Christmas gift recommendations from a toy store owner with over 20 years of experience watching the trends and successes and failures of many, many games and toys. Games Unlimited is my go-to store for gift giving, especially birthday parties where I have to stop and get the gift on the way to the party! =) I can always count on them to recommend the perfect gift for the birthday boy or girl and stay within my budget.
Curious about their other recommendations? We covered Christmas gift ideas for Older Boys, Older Girls, Preschool Boys and Preschool Girls. Or maybe you just want to follow them throughout the holiday season on social media on Instagram and Facebook so you can get more of the inside scoop. I love that in the age of screens and technology, Games Unlimited focuses on ways to entertain and engage children through creative toys and games. Read on for their opinions on the top games for Christmas:
*Just a reminder that all product links are affiliate links. Read the Disclosure Policy for more information.
The Top Games for Christmas