I often think the simplest activities are the best ones, especially when it comes to learning! I have been trying to incorporate a little more learning into our daily lives around here (Once a teacher, always a teacher!), but only if I can sneak it into a game or something fun. Hands-on learning activities are the best way to connect and engage with children on so many different levels. So whether you are a homeschooling mom, a classroom teacher or you just want to add a little learning to your home life, these simple Valentine Themed Math Games using heart paper plates would be perfect for a Class Valentine's Day Party or just an afternoon at home!
This post may contain affiliate links, which give me a small percentage of any sale made at no extra cost to you. You can read my entire disclosure policy here.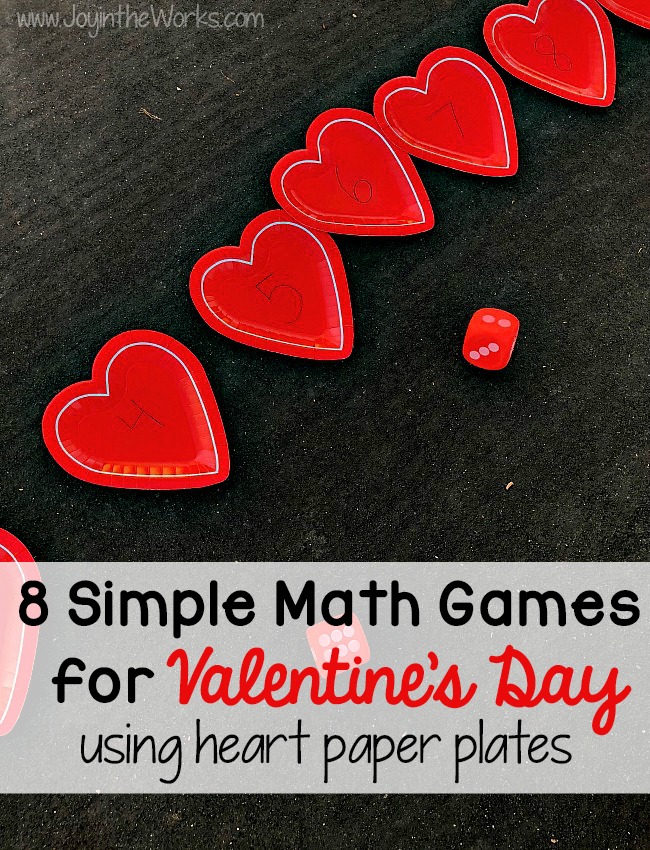 Simple Valentine Themed Math Games
Because I have younger kids in the house, we did a lot of simple counting and number sense activities for our Valentine Themed Math Games, but they can easily be adjusted for older children as well. I started out by taking heart paper plates (I got mine at Target, but you could also just cut out hearts from construction paper. I like the paper plates because they were sturdy enough for lots of play and outside games.) and labeling them with the numbers 1-20. I used a regular Sharpie, but I would recommend a thicker Sharpie Marker so that the numbers showed up a bit better from far away.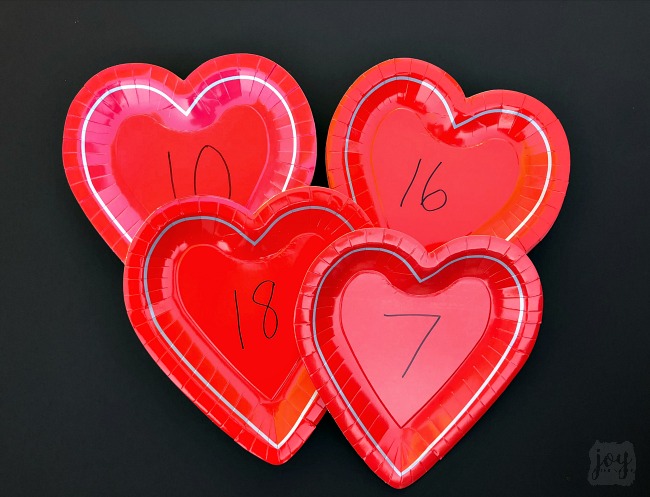 1. Numerical Order
Depending on the age and level of the children you are working with, simply give them a stack of hearts and have them put them in numerical order. If they are young, then sometimes they need a little guidance on where to start, lining them up etc. After we get them lined up correctly, I always make sure that the children count the hearts using one-to-one correspondence. (One plate per number, they often get going too fast and lose count!)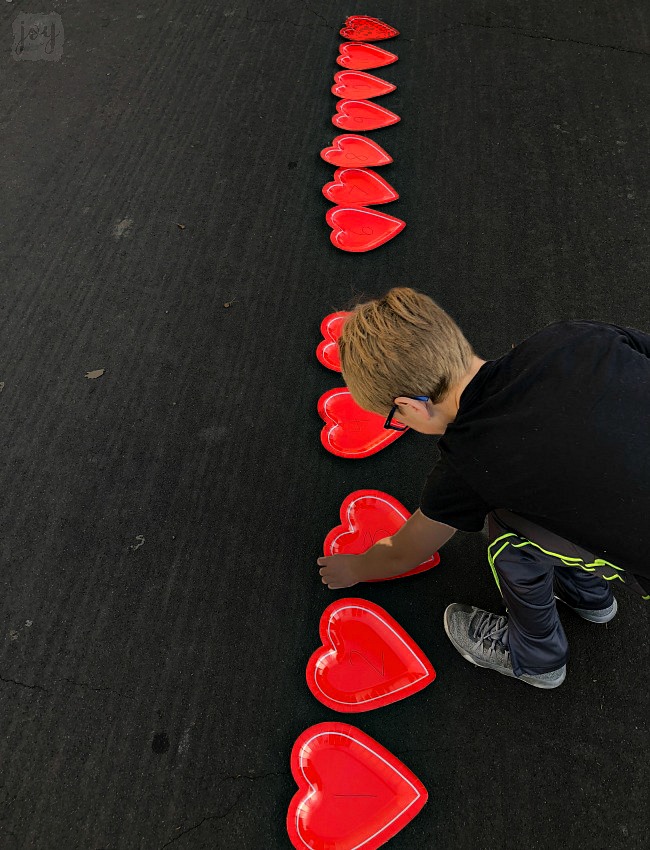 2. Skip Counting
After your child or student has counted the plates by 1's, it's time to have them practice their skip counting. Skip counting is just like what is sounds- skipping numbers as you count! Counting by 2's would be easy for the kids here, simply by jumping over a number. If you wanted to have them count by 5's, you could take out some of the plates to make the concept more concrete. Or if you had more hearts, you could write numbers by 10's on them and the kids could jump by 10's from 1 to 100!
3. Number Identification
This is a simple math game for practicing number identification. We used bean bags (not pictured) to throw onto the plates. You had to identify the number you landed on. You could also use small rocks or pebbles or another kind of marker.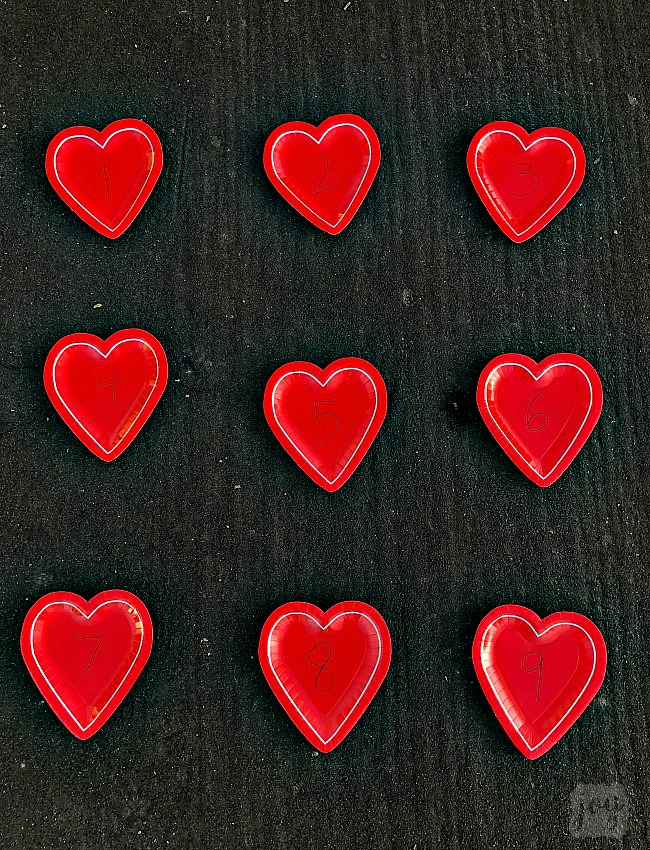 3. One-to-One Correspondence
It isn't just important that kids know how to count, but also that they have number sense and understand that a number of objects correlates with a numeral. One way to practice this is with counting objects using one-to-one correspondence. In this case, I put out a bunch of my new favorite Target Valentine Erasers (Pizza Hearts!) and a pair of chopsticks or tweezers. Not only can the kids practice counting objects with this activity, but it is also important for building up hand strength and dexterity.
I like to mix this one up a bit by putting the numbers out of order. So I might lay out the plates that say 6, 9, 12 and 20 on them and have them use the tweezers to fill up the plates with the correct number of erasers or objects.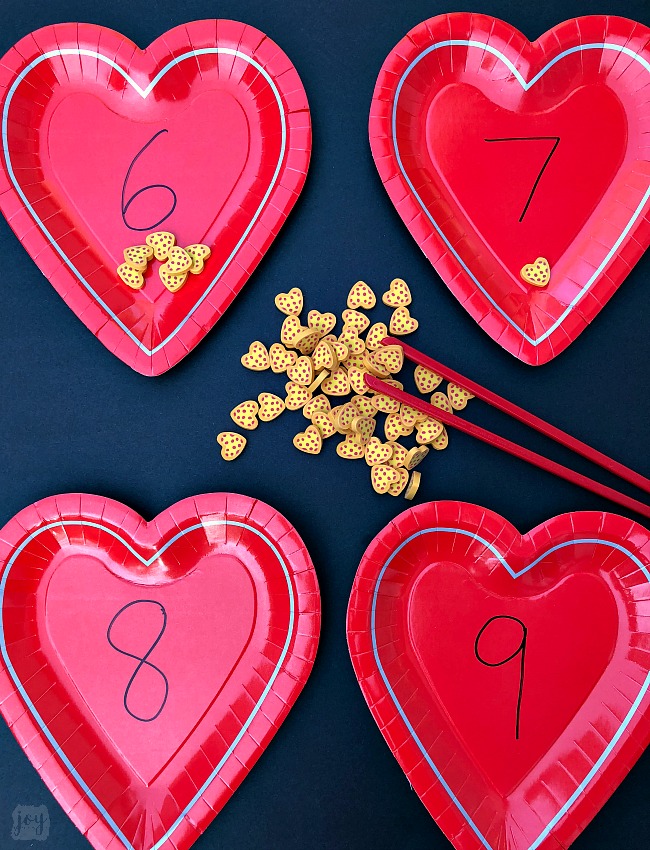 4. Subitizing
Subitizing is the ability to recognize numbers at a glance without having to count them. This is best demonstrated with dice and practicing this is great for little ones. This was one of my kids' favorites, especially when I brought out the jumbo foam dice! For this game, we laid out the heart paper plates in numerical order and rolled one die. My son had to say the number he rolled and then jump to the corresponding plate with that number. Easy peasy!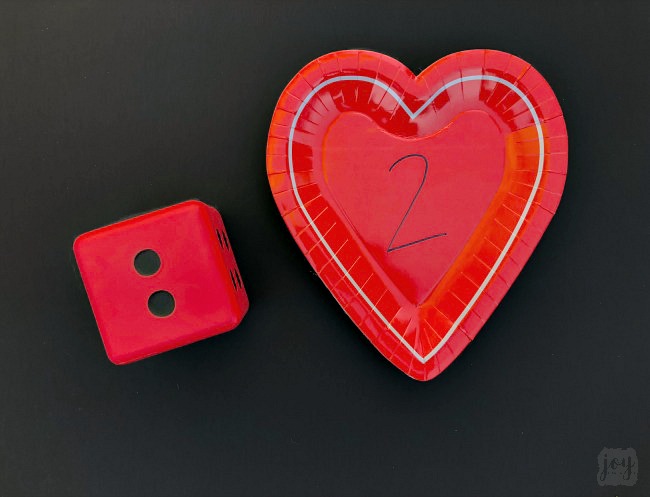 5. Addition with Dice
Working on addition facts with your kids? This Valentine Themed Math Addition Game would be perfect for you! We kept our plates in numerical order (up to 12) like a number line. Next, we rolled one die and walked/jumped/hopped that number of spaces. Then we rolled the next number and did the same. The key here is to end each "round" with a math sentence. So my son rolled a 6 and jumped 6 hearts. Next he rolled a 6 and jumped 6 more hearts. He looked down and saw he had finished at 12. He then said the number sentence "6 + 6 =12" If you were doing this activity inside or had an easy way to write, I would suggest following it up with writing down the math sentence. It is one more way to make the lesson more concrete!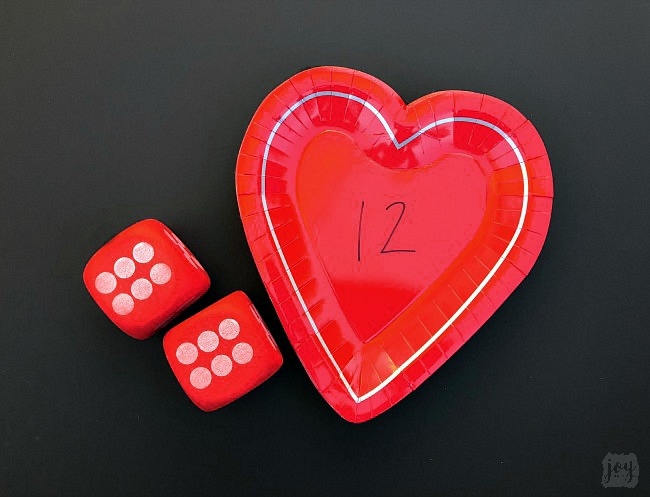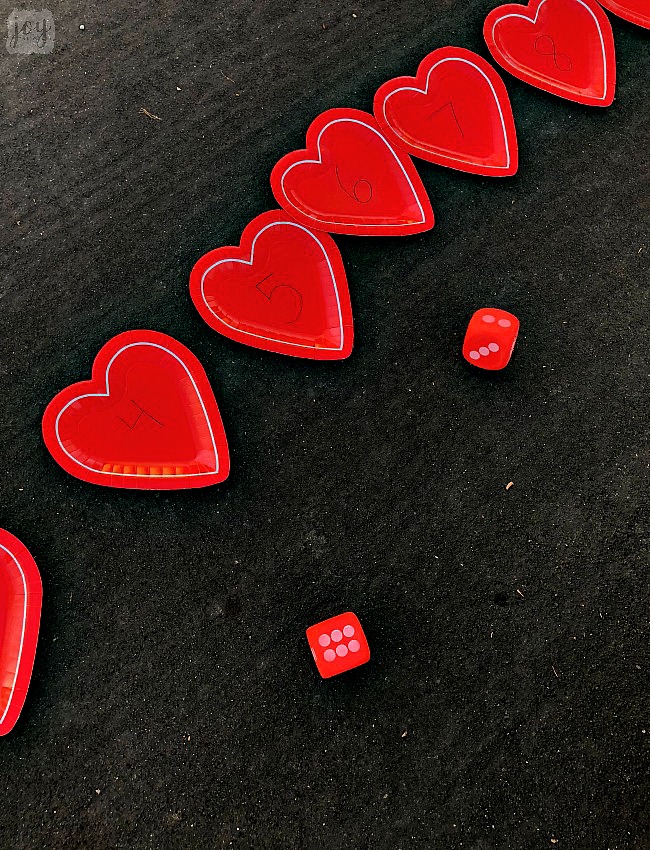 5. Addition with Arrows
Adding with dice is fun, but using Cupid's arrows for Valentine Themed Math Games is even better! I had these arrows straws leftover from last year's Target Dollar Spot, but you could easily make your own arrows using straws and construction paper (In fact, I should have added a tip to the end of these as well!). After you have your arrows, throw two arrows on plates in your number line and add them together. Make sure you end this Valentine themed math game with an addition sentence!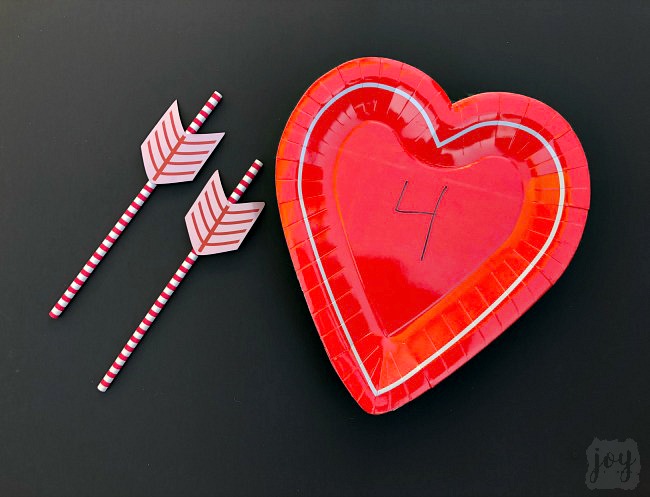 6. Subtraction using Bean Bags
To be honest, you can use the dice or the arrows to do Valentine themed subtraction math problems (Just make sure you start with the larger number and walk  in the opposite direction!), but another object you can use is bean bags! The procedure is the same, as you want to start with the larger number and make sure you walk down the number line to land on your answer. Be sure to have the kids say and/or write their subtraction sentence!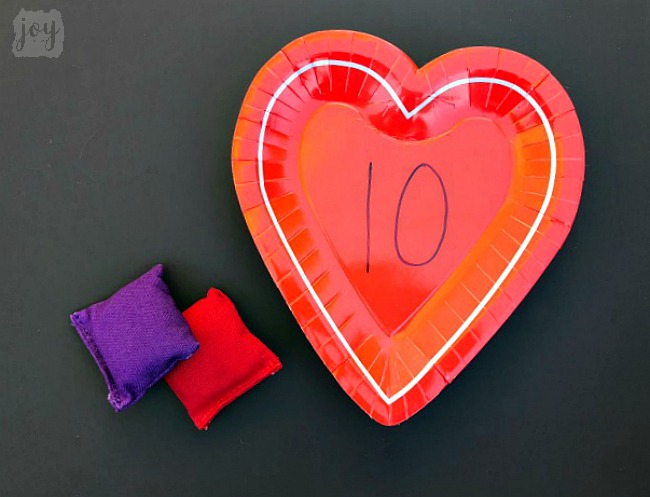 7. Musical Hearts
I am all about the games and making things more fun, so of course I had to have a classic game on this list! Similar to Musical Chairs (or the even better "Cake Walk"), we put our heart paper plates in a circle and turned on the music. The kids walked until the music stopped. We called out a number and if you were standing on that number, then you were out (or got a prize, depending on your mood lol) This is a perfect example of how you can sneak in educational moments. If you were playing Musical Hearts with the littlest ones, this game is good review for simply identifying numbers. If you have older kids (pictured), you can take it up a notch by having harder numbers, doing skip counting or having 2 kids work together to add or subtract their numbers.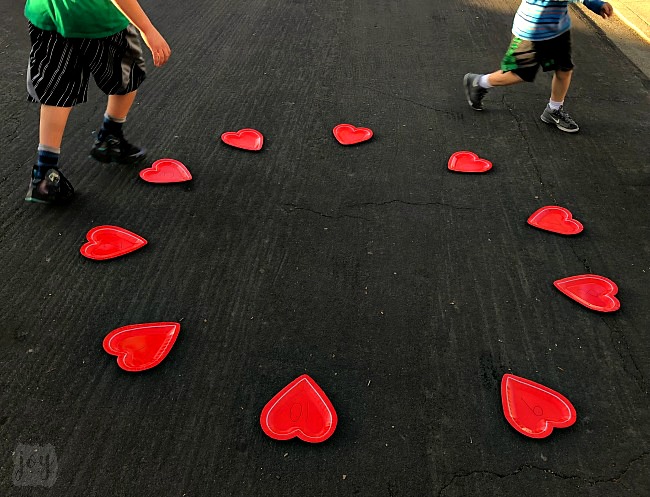 Bonus:  Shapes
I had to give you a bonus idea, didn't I?! =) If you have enough plates, you can use them to make different shapes. We started with a circle from the game above, but then transformed it into a square, a triangle and of course, a heart! <3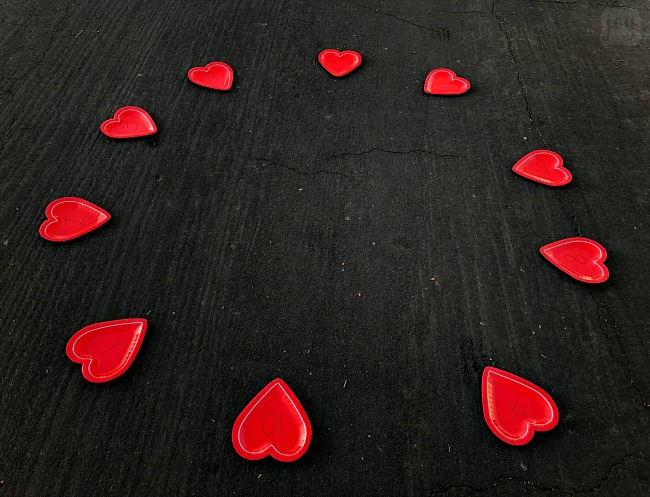 I know these were really simple ideas, but I hope I inspired you that it doesn't take much to create hands-on learning activities for children. Counting, adding and subitizing can all easily be part of of our everyday fun! Because we all know when things are more fun, kids connect more with the material and the people! =)
I bet there are a ton of other simple Valentine themed math games that I haven't thought of yet! Please add some in the comments below! Thanks!