You know how much I love giving gifts (If you have read The Five Love Languages by Gary Chapman, you know "gifts" is my love language!) And since I know first hand how hard teachers work, I think Valentine's Day is the perfect occasion to express our appreciation for all teachers do for our children. With that in mind, I have compiled a list of 8 different Valentine gift ideas for teachers and I am giving you all the adorable themed gift tags I made to go with them!
Now, most teachers will tell you that gifts aren't necessary (They aren't!) and that a homemade card with personal sentiments is what they really treasure. However, as a teacher myself, I secretly loved when a family would bring me a heart cookie on Valentine's Day or some small treat to make a holiday more festive. But please don't feel pressured to give teachers gifts! Honestly, it is just something I enjoy doing, especially as it gives me the opportunity to be crafty and make a regular mundane day more joyful. If you are like me and you like to give little gifts on holidays, then this post is for you as I am giving away more printable Valentine gift tags! (Missed the last post with free printable gift tags? I gave away 16 themed Valentine gift tags for boys as well!)
This blog post contains affiliate links. See my policy here.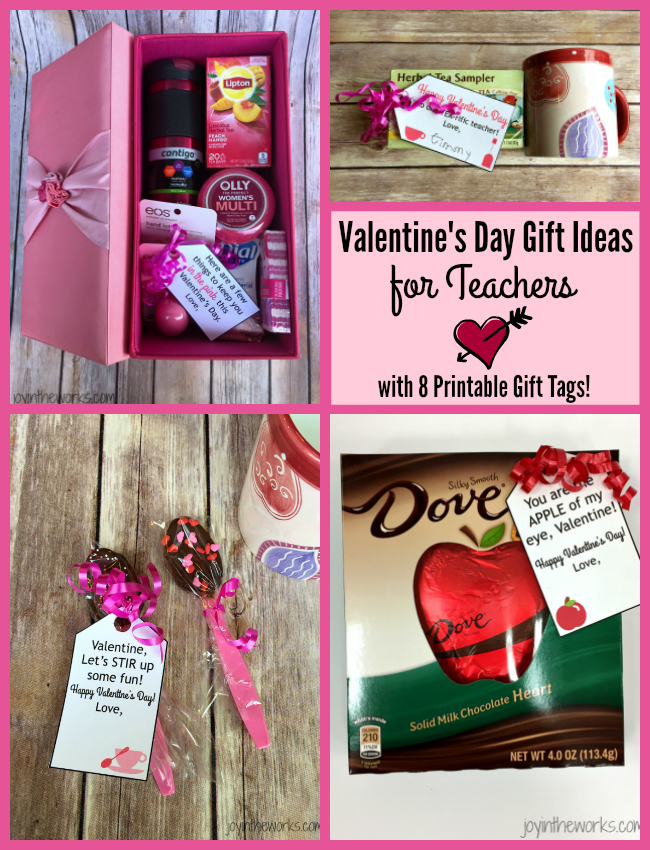 Valentine's Day Gift Ideas for Teachers with Free Printable Themed Gift Tags
1. Apple You can never go wrong with an apple for a teacher right? Make it chocolate or caramel dipped with fancy toppings!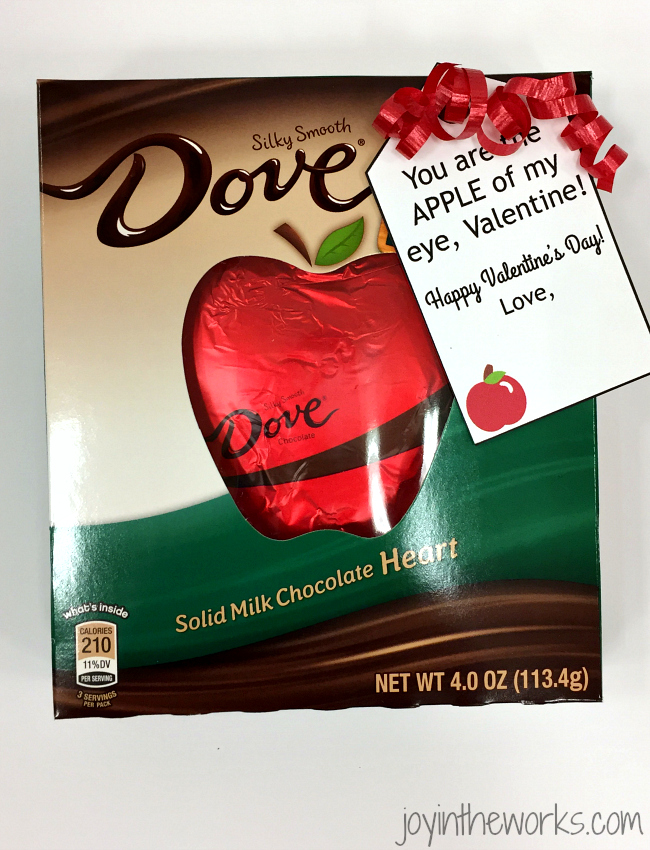 2. Tea If you know your child's teacher likes tea, how about giving a box of tea with a Valentine mug or even a fun pink travel mug? Or how about just giving a small token of your appreciation on Valentine's Day with a nice tin of tea all by itself? I feel like a cute ribbon and gift tag really can make a small gift extra special.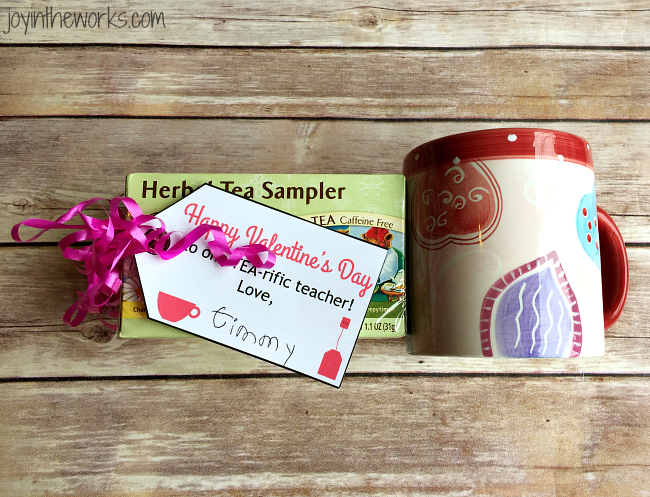 3. Spoons for Hot Chocolate (This is a separate post coming soon, but if you think your teacher likes hot chocolate, what about putting together some of these chocolate spoons? They are so easy to make, I promise!) Until I get that post finished, you can download the gift tag for the spoons here (but the other 8 gift tags all come together in big packet at the end of the post.)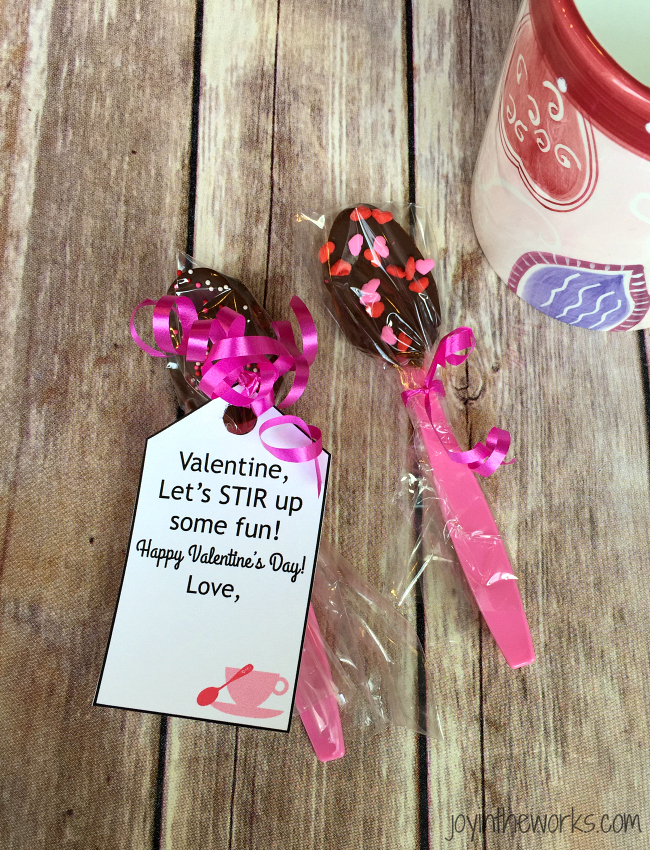 4. In the Pink This is a creative gift basket idea to help keep our teachers healthy as the kids are little germ monsters right now! It worked out perfectly that Valentine's Day is in the winter months when everyone is sick and I called it an "In the Pink" basket. "In the Pink" is an expression that refers to being healthy. As I watch the kids sneeze and cough and rub their boogers all over the classroom, I decided my son's 1st grade teacher definitely needs this!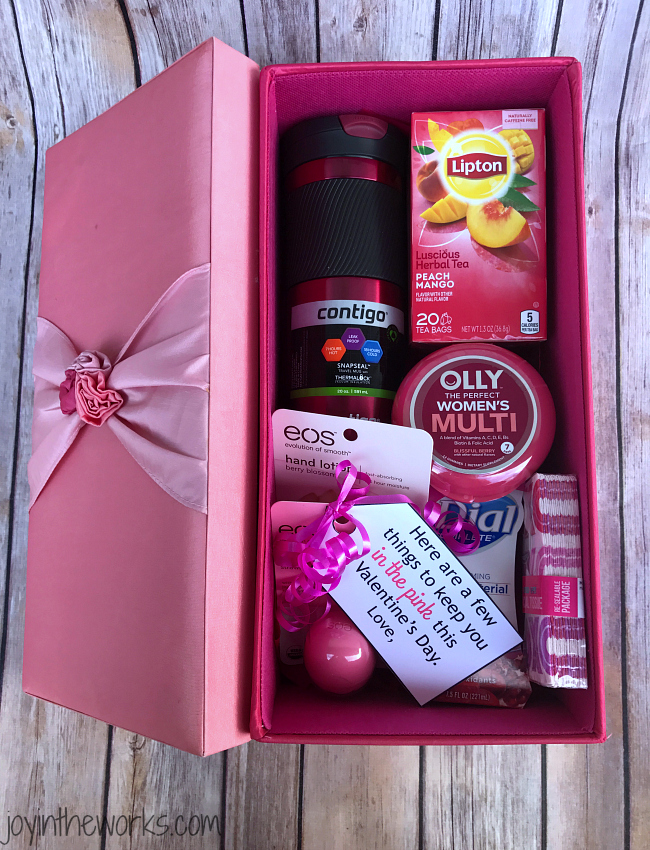 5. Candy You can never go wrong with candy, am I right?! =) This gift tag will go with any
6. Notebook There are so many cute notebooks and journals out there. I even found some recently in the Target Dollar bins! But my favorite is this red, leather heart journal I found on Amazon.
7. Books Any book will work for a teacher! You could buy a Valentine's Day picture book for the classroom or what about a book just for the teacher? You could give the latest best seller or even just a Valentine themed Amazon gift card!
8. Soap Now, every teacher also needs more hand soap in the classroom at this time of year to keep the kids as germ free as possible, but why not make it more Valentine themed like this one? Or you could also give something special for the teacher to take and use at home. I found some beautiful rose and strawberry bar soap that would be the perfect token Valentine's Day teacher gift when paired with the soap Valentine gift tag I have created (Download below) Remember, sometimes it's just about the presentation!
Well, that's 8 Valentine's Day Gift Ideas for Teachers…but since I am already giving away so much in this post, here is one more! =)
9. Writing Utensils We all know teachers are always in need of more writing utensils. From pencils to sharpies to dry erase markers, you could add this gift tag to a number of different small gifts for Valentine's Day.
What do you think? Can you think of any more simple Valentine's Day gifts for teachers? If so, please share them below! In the meantime, if you sign up for emails below, you get 8 FREE themed Valentine gift tags for teachers (plus the spoon gift tag listed in line #3 above!) Enjoy your freebies and I hope they are enjoyed by our hardworking teachers! =) I also hope you enjoy celebrating love, friendship and gifts as much as I do on Valentine's Day!

Save
Save
Save
Save
Save
Save
Save
Save
Save