Thanksgiving is an often overlooked holiday, especially in the classroom! When I was teaching, not only did we do a Classroom Thanksgiving Feast with all the children's families, but we also complied all of their favorite family recipes in a class cookbook! Whether you are hosting a Thanksgiving Feast in your classroom or just helping out with one, check out these 20+ ideas that can make the event extra special!
Ideas for a Classroom Thanksgiving Feast
Table Settings Ideas
Just like for the actual holiday, when planning a Classroom Thanksgiving Feast, the table is the focal point! Read on for some of my favorite ways to decorate a Thanksgiving table in the classroom- starting with setting up one long family table!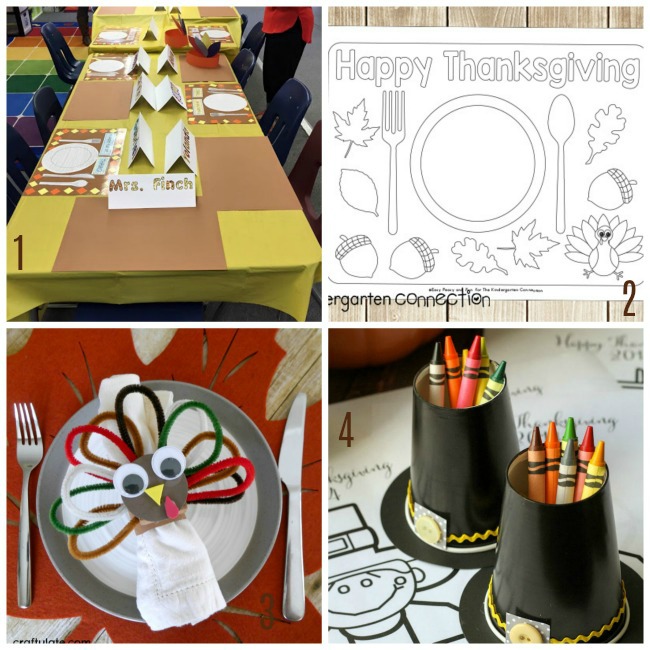 1. Autism Adventures shares several wonderful Classroom Thanksgiving Feast ideas from setting one long table with glittery name tags to placemats  to hats to and the cutest printable menus!
2. I have seen a lot of different kid made Thanksgiving placemats floating around out there, but I love the 2 Thanksgiving Color-Your-Own Placemats from The Kindergarten Connection the best! The kids would love coloring them in while they wait for their food!
3. Every Thanksgiving Table needs to be set with plates, napkins and cute napkin rings! The kids can even help make these fun Turkey Napkin Rings by Craftulate!
4. If you are going to have the students color in their own placemats (or draw on Kraft Paper!), then you need crayons at the ready on their Thanksgiving table! These Pilgrim Hat Crayon Holders by Lil Luna are practical and adorable!
** Another great table decoration would be these cute Pumpkin Turkeys with lollipops for feathers! I love the way The Kindergarten Connection encourages you to use those leftover mini-pumpkins and Halloween candy too!
Wall Decoration Ideas
While not a necessity, it can also be fun to add some Thanksgiving Wall Decorations! I have seen teachers who create an entire Mayflower ship with pilgrims on the wall, but I like to do something simpler that the kids can make themselves. Check out these 2 Thanksgiving Garlands we made: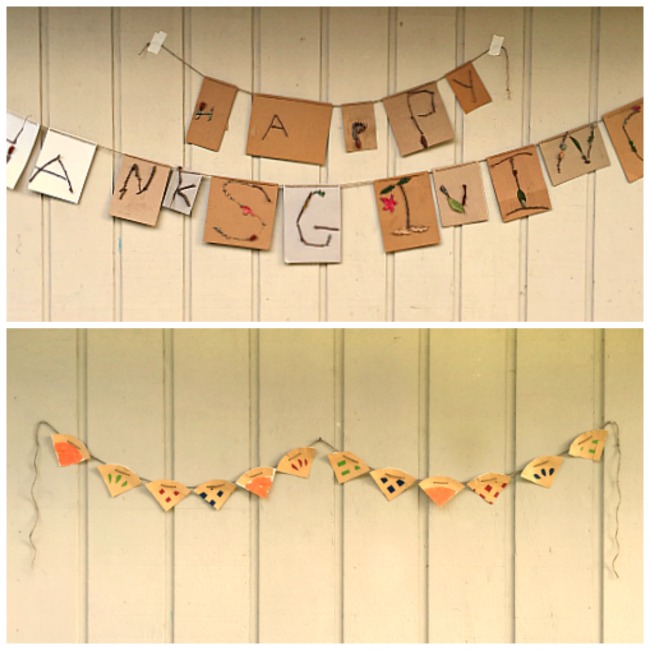 I love this  Nature Made Thanksgiving Garland we made because we started with a Nature Walk as a class and we collected all the sticks and leaves and acorns to create the letters and words!
I think we all know that the pie is the best part of Thanksgiving, so why not decorate with it also?! =) The kids and I used paper plates to make slices of pumpkin, apple, cherry and blueberry pie with this Thanksgiving Pie Garland!
Feast Food Ideas
While I think doing a potluck is usually the easiest way to go with a Classroom Thanksgiving Feast, here a few extra special treats that you might want to add: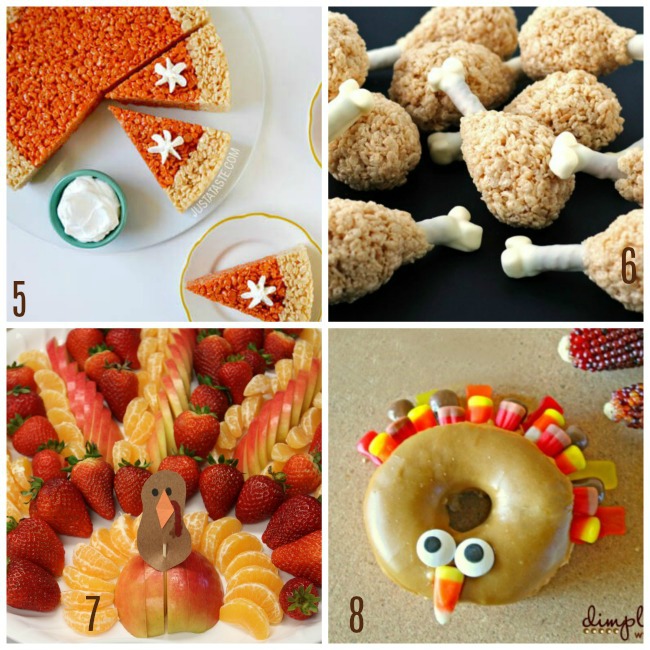 5. Let's be honest, kids usually just like the whip cream off the top of pumpkin pie! But they are sure to like this type of Pumpkin Pie! Check out this Rice Krispie Pumpkin Pie by Just a Taste.
6. Another creative Rice Krispie Treat that the kids would probably like better than the real thing are these Rice Krispie Turkey Legs by Kitchen Fun with My 3 Sons.
7. If you are including all the families in your Classroom Thanksgiving Feast, a big platter of fruit or veggies is a must! This Turkey Shaped Fruit Platter by Not My Own would make a great food centerpiece too! Or looking for a veggie platter? Check out this Turkey Vegetable Platter by Eating Richly.
8. For those of you who aren't doing traditional Thanksgiving food or you just want to do something special in the morning, you have to check out these Donut Turkeys by Dimple Prints!
** Or have you seen all the different food items that can be turned into turkeys? From these Turkey Pudding and Jello Cups by Keeper of the Cheerios to Turkey Cheese Sticks by Frugal Coupon Living to Turkey Juice Box Covers by Inspiring Savings, there are so many fun food crafts that will work for a Classroom Thanksgiving Feast!
Snacks and Favors
There are so many fun themed Thanksgiving favors that can double as snacks for your Kid's Thanksgiving Celebration!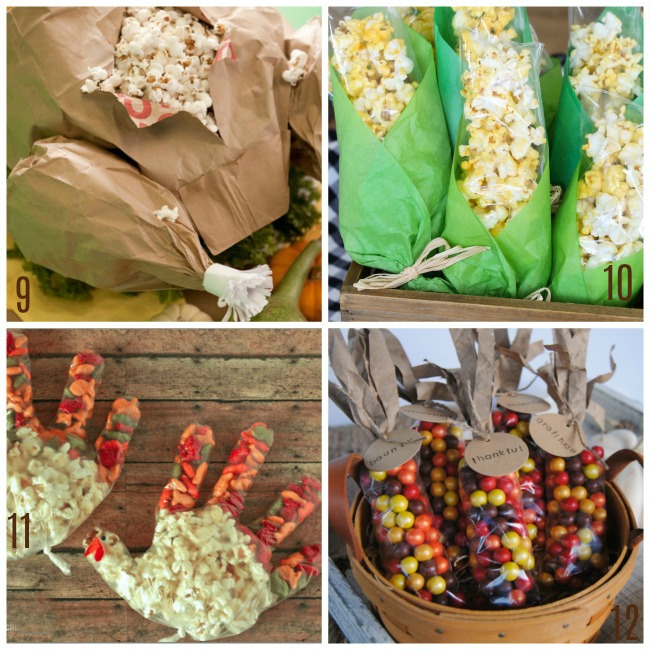 9. I love the idea of a Paper Bag Turkey filled with Popcorn (by One Charming Party) as it works for a snack and doubles as a great centerpiece!
10. Buttered Popcorn wrapped in green napkins and tied up with rafia make this Corn on the Cob by Smart School House a great snack or favor to send home with the kids.
11. Have you seen these cute Popcorn Glove Turkeys? This one by That's What Che Said is filled with colored goldfish. I also saw a cute one by JA Monkey that filled the Popcorn Turkeys "feathers" with fall colored candies!
12. While I like the idea of dried Indian Corn as a table decoration for a regular Thanksgiving Feast, these candy Indian Corn Thanksgiving Favors  by Shaken Together Life are so much cuter!
Games and Activities
While sometimes a Classroom Thanksgiving Feast just involves a little song and poetry presentation, there might be a need for some other games and activities. While I think the coloring placemats are a great start, here are a few other good activities for a classroom Thanksgiving party:
13. If you know my blog at all, you know how much I love build your own snacks and snack mixes, so when I found a snack mix that represents the Story of the First Thanksgiving, I got so excited! You can find this Mayflower Mix by So Festive.
14. Painting tin cans to look like turkeys can make a great carnival type game. Check out this Turkey Bowling Set by Tastefully Frugal. Or want to go simpler? You can make a Turkey Bowling Set out of brown cups as well by The Seasoned Mom.
15. In my opinion, Thanksgiving Bingo is a necessity for any Classroom Thanksgiving Feast! I love that you can bump it up a notch by using fall colored candy or candy corn for game pieces too. One Creative Mommy does a great job with this one!
16. Seriously, every Kid's Thanksgiving Feast needs a hat! I have seen Pilgrim Hats and Native American Headbands, but this Turkey Hat Craft from the Kindergarten Connection is just too fun to pass up!
*Another fun activity would be to have the kids make their own Pretend Play Pumpkin Pie! The kids can make and play with their "pie" at their Thanksgiving Party! Directions are from The Kindergarten Connection.
More Activities, Games and Snacks (perfect for home or school!):
Entertainment
Every Classroom Thanksgiving Feast has to have some adorable entertainment! There are so many great songs and poems out there- a few of my favorites are "I'm Glad I'm Not a Turkey" and I'm a Little Turkey (sung to the tune of I'm a Little Teapot!), but there are so many other wonderful ones! Got a favorite? Share below!