I feel like there are 2 types of people in the fall: those who love everything pumpkin spice and those who don't. ;) One of my closest friends is one of those who counts down the days until Starbucks releases their Pumpkin Spice Latte and in her honor, I came up with the Ultimate Pumpkin Spice Snack Mix! (And in your honor, I came up with a free printable Pumpkin Spice gift tag to go with it!)

The Ultimate Pumpkin Spice Snack Mix
Supplies Needed:
Pumpkin Spice Pretzels
Pumpkin Spice Almonds
Pumpkin Pie M&M's
Pumpkin Spice Almonds
Pumpkin Spice Cheerios
Pumpkin Spicemallows
**Everything for The Ultimate Pumpkin Spice Snack Mix is optional! The only criteria is that each item is pumpkin flavored and works well together!
For instance, you can now find Pumpkin Spice flavored Italian Sausage, but I am not putting that in my snack mix! ;) I sorted through a lot of pumpkin spice foods and these are the items that I found complimented each other well. But feel free to use my Pumpkin Spice Snack Mix Gift Tag and just include your favorite items! But only if you share your recipe below! =)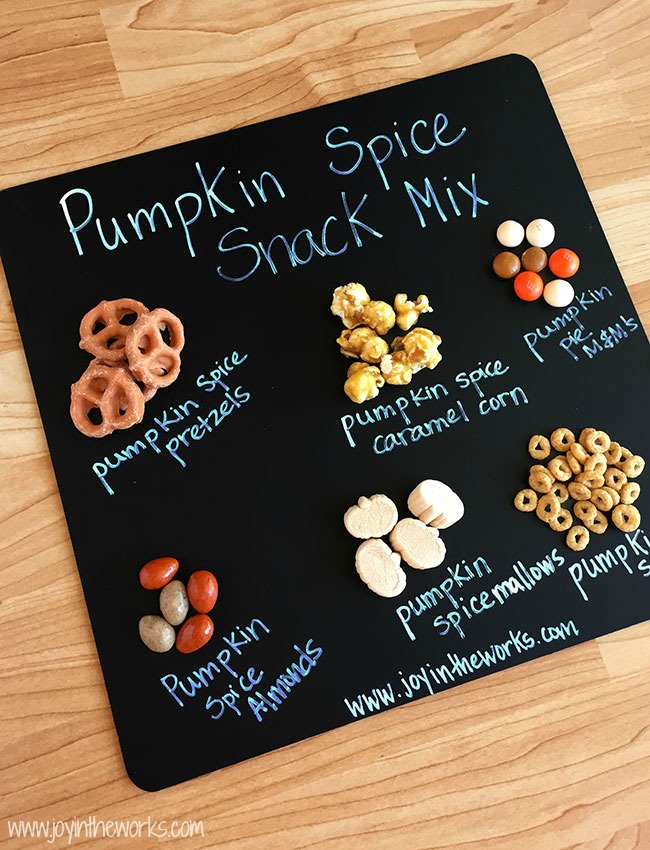 My quest for the perfect Pumpkin Spice Mix started when I found these amazing Pumpkin Spicemallows! I fell in love with their shape and smell, but then had to come up with a recipe to use them in that didn't cause them to lose their shape (like they would if you made Pumpkin Spice Rice Krispie Treats!)
The problem was that while I like to share food crafts and party food on my blog, I am not the best cook! In fact, Snack Mix "recipes" are often the extent of my cooking skills because it only involves the following steps: Gather ingredients. Put in bowl. The end. ;)
While I may not be a foodie, I certainly know how to put food together in a cute bowl or bag with a ribbon and a tag! So that's what I have done with all these yummy pumpkin spice flavored snack foods!
Whether you are serving the Ultimate Pumpkin Spice Snack Mix at a party or giving it away as a gift, you can present it in a variety of ways. From individual Halloween snack paper bowls to a large ceramic pumpkin serving bowl to bags with tags (available at the bottom of the post), the pumpkin spice fall flavors are wonderful no matter how you serve them!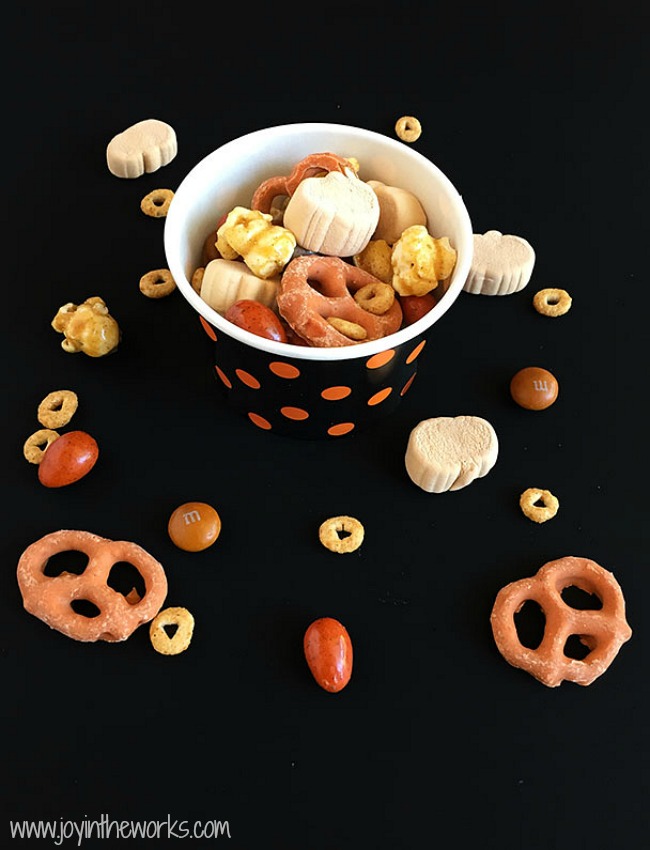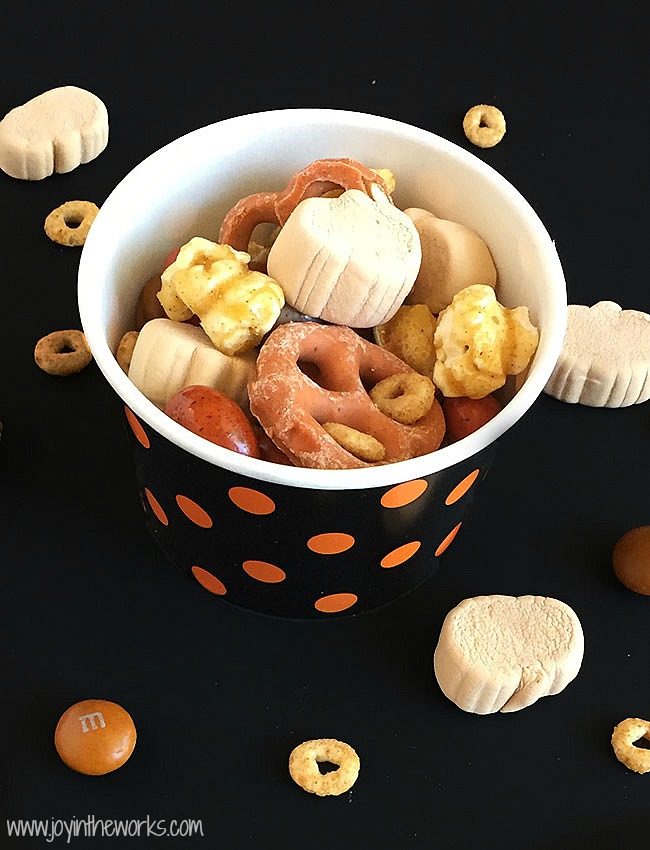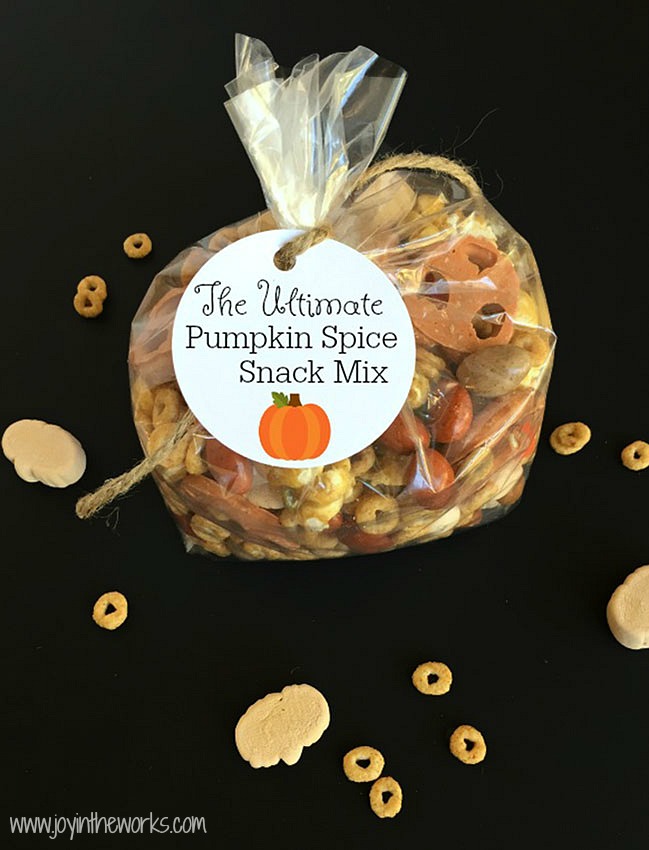 Have friends who love pumpkin spice as much as mine do? Give the Ultimate Pumpkin Spice Snack Mix as a gift using this gift tag here: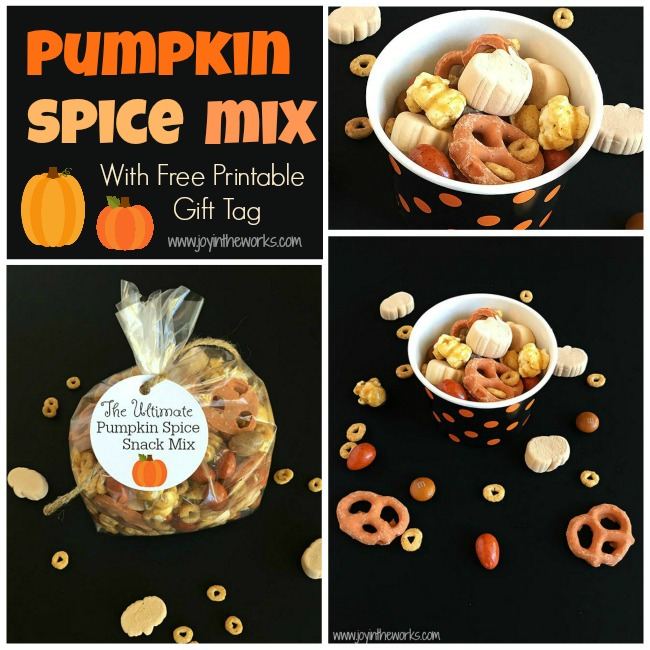 Not a Pumpkin Spice Fan? Check out the Candy Corn Snack Mix instead!