You didn't think I would let a holiday go by without doing our famous themed catapults did you?! While it has been a long time since I have put up a new post, I had to find the time to share this Candy Corn Catapult with you all! This combines all of our favorite parts of a family fun activity: candy and…oh wait, mostly just candy. ;) But as a mom and a former teacher, I also like it when we get a little learning into our fun and this activity fits the bill!
Building catapults and figuring out how to launch candy corn the farthest makes the perfect Halloween STEM activity. Oh and while we started with just a Candy Corn Catapult, we also tried launching mini pumpkins and eyeballs too! Last, to bump it up a notch, we added mini witch cauldron targets to make the activity extra challenging! It was the perfect Halloween STEM activity!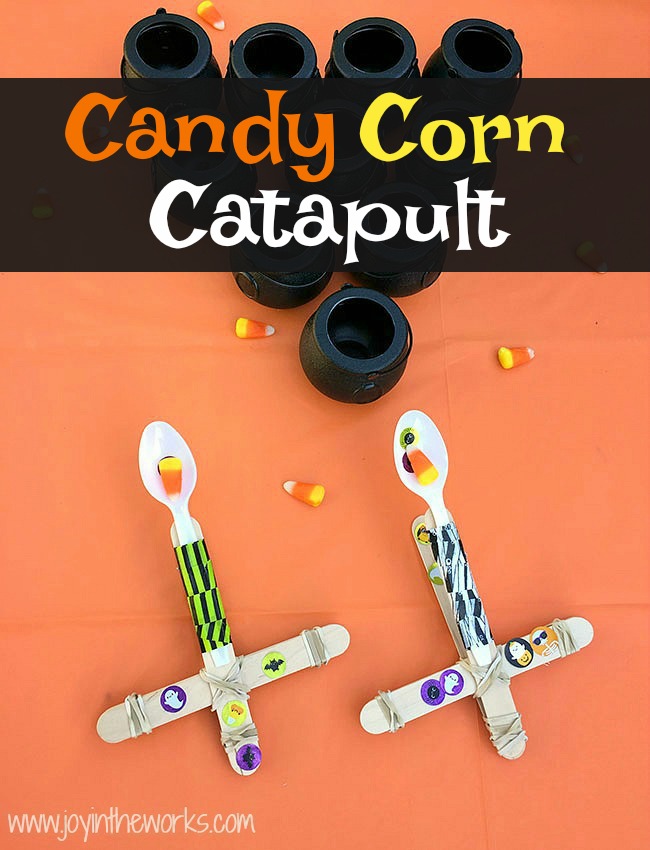 Candy Corn Catapult
Supplies Needed:
Catapults (Jumbo Craft Sticks, Rubber Bands, Plastic Spoons Any color spoon works!)
Halloween Washi Tape (Optional for decorating your catapult)
Halloween Stickers (Optional for decorating your catapult)
Pots of Black Cauldrons (Optional for catching the candy corn)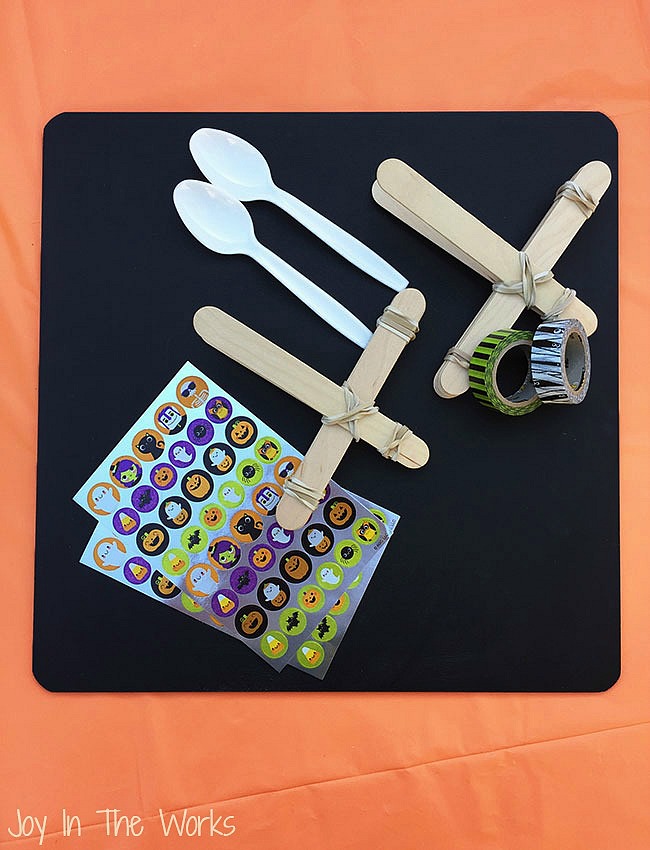 As always, I start my catapult building by reviewing the instructions by Devin Collier in his blog post entitled How to make a marshmallow catapult. The images and steps are laid out so clearly that even a non-spatial mom like me can follow them! ;)
Also, as a reminder, you do NOT have to make a fancy, themed catapult for each holiday! I only do the extra details of tape and stickers because it's fun for the kids to decorate them and because I will take any opportunity I can to get a little crafty! =)
So, please feel free to just make the basic catapult outlined on Devin Collier's site. If you want to do a little more, then check out my Conversation Heart Catapult where I give more descriptions about how I "fancy up" my catapults for each holiday. You can also see our St. Patrick's Day Catapults where we launched Lucky Charms or are Christmas Catapults where we launched gum drops! The kids love when mom get gets the catapults out! I hope yours will too!
After we have the basic catapult, we use the washi tape to attach the spoon (instead of the rubber bands called for in the original instructions). Then the kids like to put stickers anywhere and everywhere!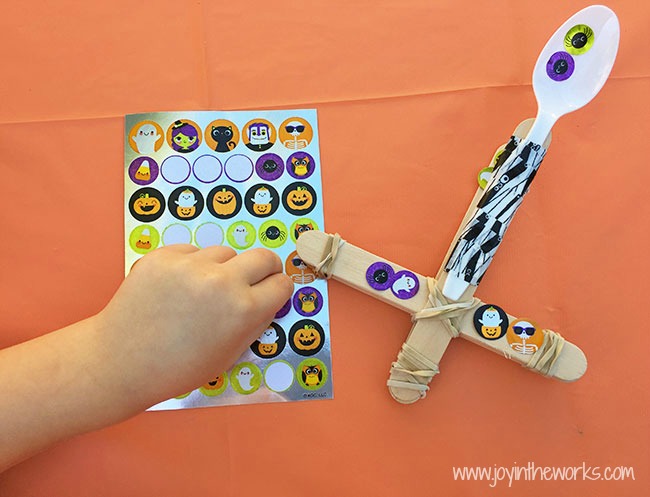 After you have your catapults all ready to go, it's time to set up your target (if you are using one). We put our little Witch's Cauldrons in a triangle shape at the end of the table. Then it was time to launch away!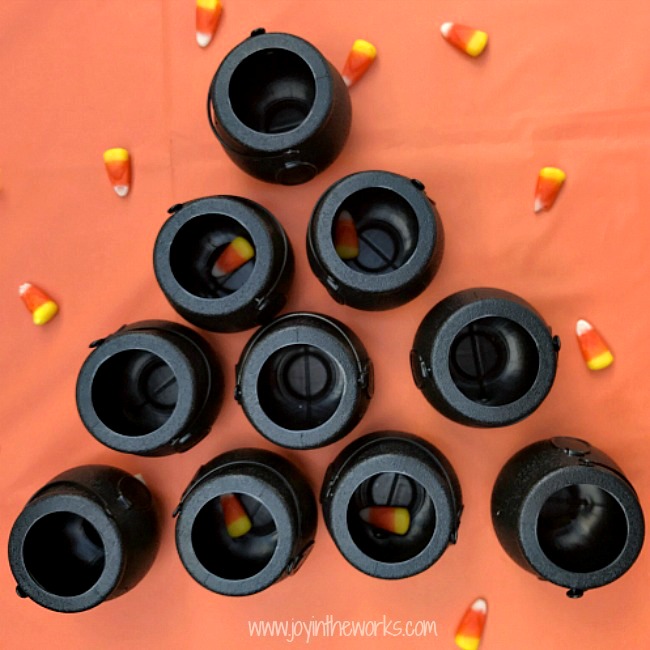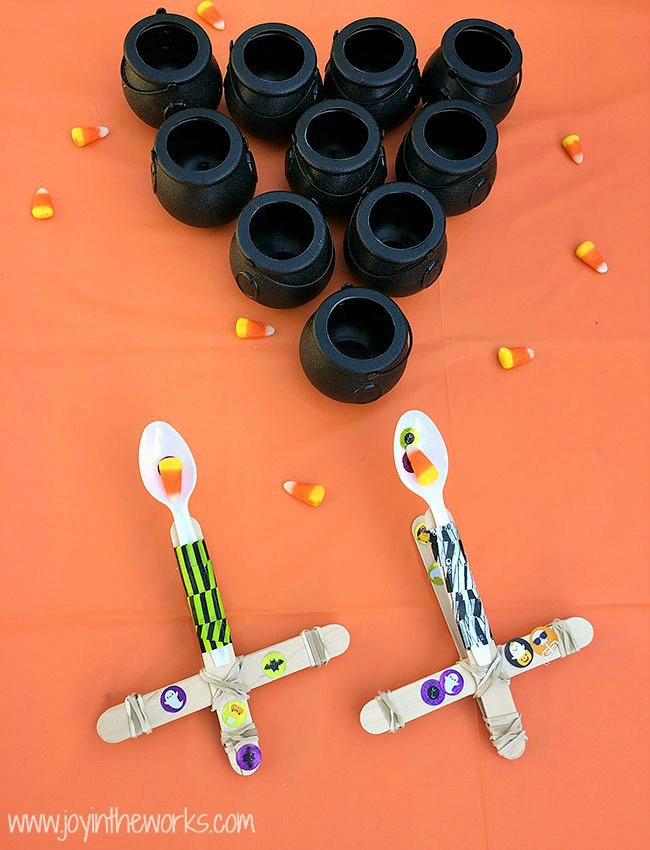 One of my favorite part about Candy Corn Catapults (and any of our catapults really!) is that I can get the younger and the older boys interested. See for yourself! =)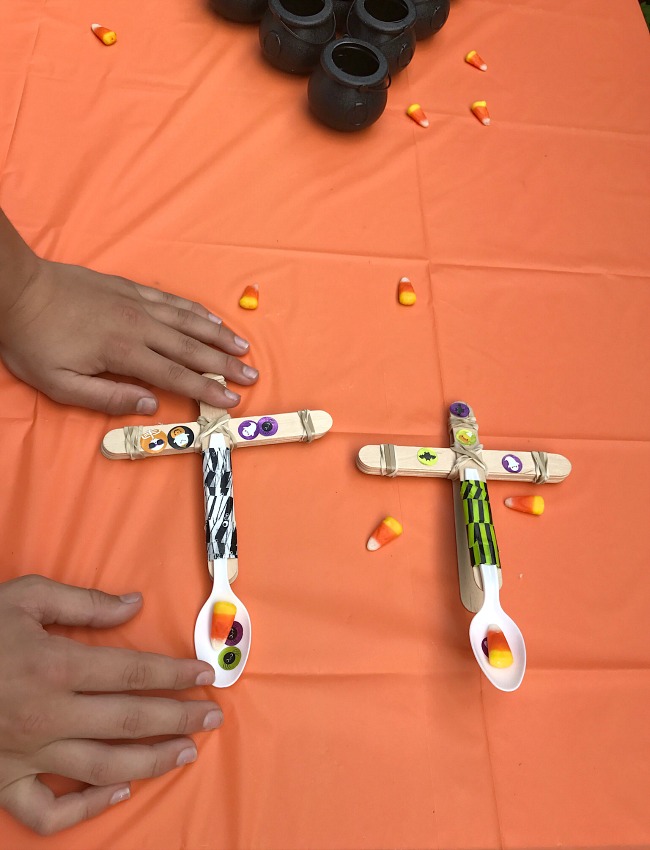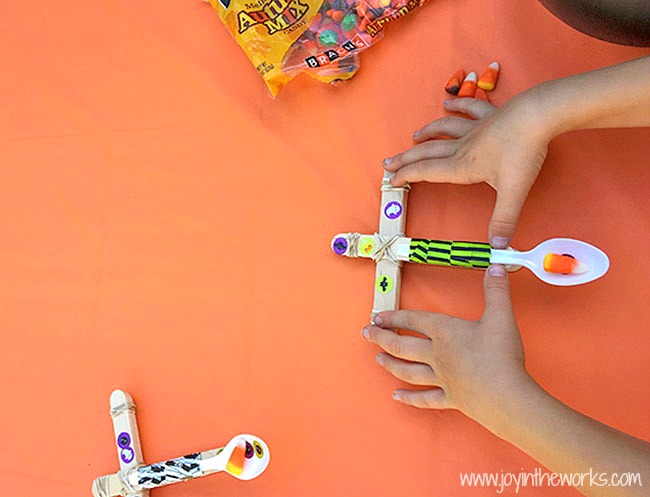 After we got tired of launching candy corn, we decided to expand this Halloween STEM activity by adding other Halloween items. We tried mini pumpkins and plastic eyeballs! Man, that's one more thing I can add to our 5 Simple Games for Halloween Parties using Plastic Eyeballs list!
Sometimes we even like adding point values to the cauldrons using stickers to see who can get the most points. If you have older kids, adding this challenge can be fun (and it involves a little math review when they add up their point total!) Speaking of, due to the educational element, this Candy Corn Catapult might be a perfect addition to an activity for a Class Halloween Party for the older kids. I could see them really enjoying this! You could even just give them a bunch of supplies and see what they can come up with and what Halloween items would launch the farthest!
What do you think? Would your class enjoy this activity? Or how about the kids at home? I mean, I know most everyone would enjoy the candy part…unless you aren't a fan of candy corn! Anyone out there like that?! Don't be shy! Share below! =)